Diana 20th Anniversary
Buy whole issue for:
Ask for Availability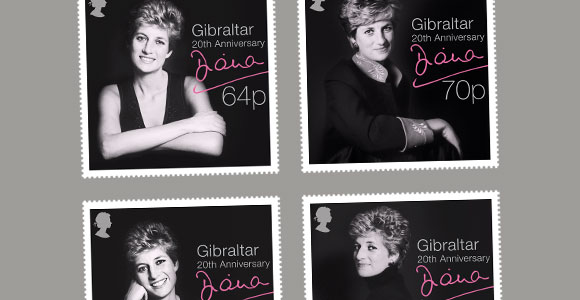 From her engagement to the Prince of Wales in 1981 until her death in 1997, Diana was a major presence on the world stage, often described as the "world's most photographed woman". She was noted for her compassion, style, charisma, and high-profile charity work, as well as her difficult marriage to the Prince of Wales. Paul Burrell, who worked as a butler for the Princess, remembered her as a "deep thinker" capable of "introspective analysis". She was often described as a devoted mother to her children, who are influenced by her personality and manner of life. In the early years, Diana was often noted for her shy nature, as well as her shrewdness, funny character, and smartness. Those who had communicated with her closely describe her as a person who was led by her heart. The Princess was also said to have a strong character, due to the fact that she entered the Royal Family as an inexperienced young girl with little education but could handle their expectations and also overcome the difficulties and sufferings of her marital life.
Diana was widely known for her encounters with sick and dying patients, the poor and unwanted whom she used to comfort, an action that earned her more popularity. She was mindful of people's thoughts and feelings, and later revealed her wish of becoming a beloved figure among the people by saying in her 1995 interview that "[She'd] like to be a queen of people's hearts, in people's hearts". According to the biographer Tina Brown, she could charm the people with a single glance. She also points out that Diana's fame had spread around the world, even affecting Tony Blair who reportedly had said that Diana had shown the nation "a new way to be British". During her life the Princess could build a relationship with ordinary people, which was shown in the messages sent by different individuals around the world as a tribute after her death. Diana is often credited for bringing the types of charity works carried by the Royal Family to a wider range and a more modern style, as well as affecting some of the household's traditional manners. Eugene Robinson of The Washington Post wrote in his article that "Diana imbued her role as royal princess with vitality, activism and, above all, glamour". Alicia Carroll of The New York Times described Diana as "a breath of fresh air" who was the main factor that made the Royal Family known in the United States. Despite all the marital issues and scandals, Diana continued to enjoy a high level of popularity in the polls while her husband was suffering from low levels of public approval. Her peak popularity rate in the United Kingdom between 1981 and 2012 was 47%.
Diana had become what Prime Minister Tony Blair called the "People's Princess," an iconic national figure. Her accidental death brought an unprecedented spasm of grief and mourning, and subsequently a crisis arose in the Royal Household. Andrew Marr said that by her death she "revived the culture of public sentiment". Her brother, the Earl Spencer, captured her role:
"Diana was the very essence of compassion, of duty, of style, of beauty. All over the world she was a symbol of selfless humanity. All over the world, a standard bearer for the rights of the truly downtrodden, a very British girl who transcended nationality. Someone with a natural nobility who was classless and who proved in the last year that she needed no royal title to continue to generate her particular brand of magic".
Technical Specs
| | |
| --- | --- |
| Design: | Stephen Perera |
| Illustration / Photography: | Getty Images |
| Printer: | Cartor Security Printers |
| Process: | Offset Lithography |
| Colours: | 4 colours |
| Stamp size: | 31.75 x 31.75mm |
| Issue date: | 2017-08-31 |
| Stamp Values: | 64p, 70p, £1, £2 |
---