Birth Anniversaries
Buy whole issue for
£30.23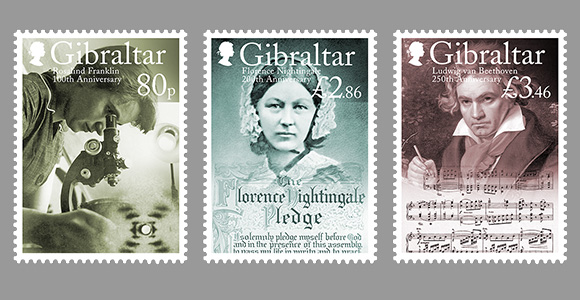 Florence Nightingale (1820-1910) was an English social reformer and statistician, and the founder of modern nursing. Nightingale came to prominence while serving as a manager and trainer of nurses during the Crimean War, in which she organised care for wounded soldiers. She gave nursing a favourable reputation and became an icon of Victorian culture, especially in the persona of "The Lady with the Lamp" making rounds of wounded soldiers at night. Nightingale laid the foundation of professional nursing with the establishment of her nursing school at St Thomas' Hospital in London.
Ludwig van Beethoven (1770 - 1827) was a German composer and pianist. He was a crucial figure in the transition between the classical and romantic eras in classical music and is considered to be one of the greatest composers of all time. His career is conventionally divided into early, middle, and late periods; the "early" period is typically seen to last until 1802, the "middle" period from 1802 to 1812, and the "late" period from 1812 to his death in 1827. During his life, he composed nine symphonies, five piano concertos, one violin concerto, thirty-two piano sonatas, sixteen string quartets, two masses, and the opera Fidelio.
Rosalind Elsie Franklin (1920-1958) was an English chemist and X-ray crystallographer whose work was central to the understanding of the molecular structures of DNA (deoxyribonucleic acid), RNA (ribonucleic acid), viruses, coal, and graphite. Although her works on coal and viruses were appreciated in her lifetime, her contributions to the discovery of the structure of DNA were largely recognised posthumously.
Technical Specs
| | |
| --- | --- |
| Design: | Stephen Perera |
| Illustration / Photography: | Getty Images |
| Printer: | BPost Sec Printers |
| Process: | Offset Lithography |
| Colours: | 4 colours |
| Stamp size: | 30 x 40mm |
| Issue date: | 2020-03-25 |
| Stamp Values: | 80p, £2.86, £3.46 |
---