Gibraltar - Israel Joint Issue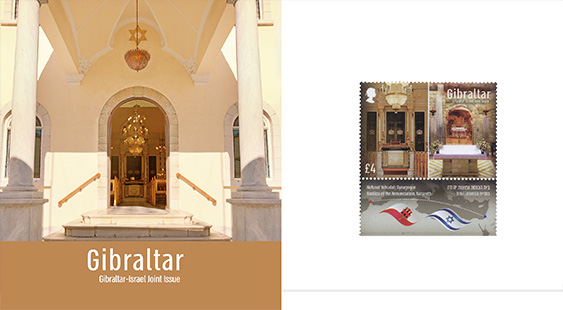 Israel and Gibraltar lie at opposite ends of the Mediterranean Sea, with Gibraltar to the west (at the south-western end of the Iberian Peninsula and of Europe) and Israel to the east.

Marine traffic has existed between Eretz Israel and Gibraltar throughout history.

Gibraltar was ceded to Britain in 1713 under the Treaty of Utrecht and declared a British crown colony in 1830.

The first Jews arrived at the fortress of Gibraltar in the 14th century, but after the expulsion of the Jews from Spain in 1492, Jewish merchants returned to live in Gibraltar only after it became British, after receiving special permits from the British generals who controlled the jurisdiction. They benefited from the fact that Gibraltar's community was extremely unified, with a longstanding tradition of tolerance toward different religions and cultures.

Gibraltar's first Chief Minister, Sir Joshua Hassan was a Jew of Turkish descent, who served two non- consecutive terms (1964-1969 and 1972-1987). Hassan headed the AACR party (the Association for the Advancement of Civil Rights in Gibraltar) and was considered to be the founder of Gibraltar's politics and the Peninsula's most significant politician in the second half of the 20th century. While serving as Chief Minister, Hassan also headed Nefusot Yehudah Synagogue. Gibraltar's Jewish community is currently led by Mr. James Levy.

Among Gibraltar's 34,000 residents, the Jewish community currently numbers some 850 members. The community is mostly Sephardic in nature, but British and Moroccan as well. Community members' livelihoods are mainly related to Gibraltar's status as an international financial center as well as a popular tourist destination, attracting millions of visitors a year. There are four synagogues and three Jewish schools in Gibraltar including one school, "Talmud Torah", which is over 100 years old and administered by the local government. There are kosher restaurants and kosher grocery shops in Gibraltar that provide many Israeli food products.

As Gibraltar is a British Overseas Territory whose foreign relations and political ties are governed by the British parliament, its political relations with Israel are by power of Israeli-British relations. There is an honorary consul of Israel in Gibraltar along with an active Gibraltar-Israel Chamber of Commerce that promotes business and cultural relations between the two countries.

Israel, which lies on the eastern end of the Mediterranean Sea and Gibraltar, which lies at its west, illustrate geographically the biblical verse "As east is far from west" (Psalms 103:12). Poet Judah Halevi was inspired by this verse to write: "My heart is in the east and I in the uttermost west", thus expressing his deep emotional connection to faraway Eretz Israel and his yearning to overcome the physical distance. Even today, this deep religious sentiment continues to create a bridge between people at the extremities of the Mediterranean Sea.

The New Testament recounts that some two thousand years ago a young girl named Mary lived in the small village of Nazareth in the Galilee. One day, an angel of God appeared at her home and said that she would become pregnant and give birth to a son called Jesus, who would save mankind. The Basilica of the Annunciation was built upon the historical relics that Christians consider to be those of Mary's home. This is one of the most important churches in the world and it holds great significance, including for Gibraltar's many Catholic residents.

Since the early 18th century, when Gibraltar became a British territory, Jews were allowed to settle there, a first since the expulsion from Spain. The territory's leaders' tolerance enabled the formation of a Jewish community, which appointed a rabbi and built its first synagogue. Gibraltar's second synagogue, "Nefosut Yehudah" was established in 1800, a magnificent expression of the strength of the Jewish community that thrived under the friendly government.


Produced with thanks to Eran Shay and Ayelet Mamo Shay, Gibraltar-Israel Chamber of Commerce.
Technical Specs
| | |
| --- | --- |
| Design: | Stephen Perera |
| Illustration / Photography: | Stephen Perera |
| Printer: | Cartor Security Printers |
| Process: | Offset Lithography |
| Colours: | 4 Colours |
| Stamp size: | 50 x 35mm |
| Issue date: | 2022-02-15 |
| Stamp Values: | £4 |
---