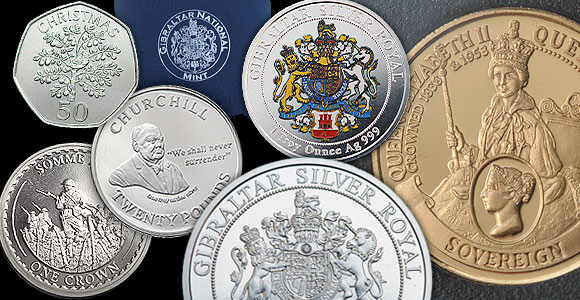 Coins
The Gibraltar Philatelic is proud to offer Gibraltar coins on its website.
There are a wide range of coins available ranging from Complete Year Sets of circulating coins to various Commemorative Crown coins issued by the Gibraltar Government. Gibraltarhas its own currency, the Gibraltar pound which is pegged with the pound sterling at par. As a consequence, the Gibraltar Government mints its own coins. The coils are made with the same planchets as the UK pound. Denominations of 1, 2, 5, 10, 20 and 50 pence and 1 pound were introduced which bore specific designs for and the name of Gibraltar. They were the same sizes and compositions as the corresponding British coins. A 2 pound coins introduced in 1999
More coins will be added shortly such as the new £5.00 coin that will bear the text HM Queen Elzabeth II "Queen of Gibraltar"
---