HMS Gibraltar
Preis Steckkarten und Briefmarken-Kollektionen:
£7.75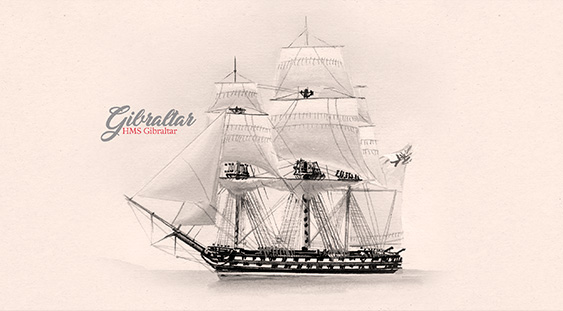 Seven different ships fr om the British Royal Navy have been named aft er Gibraltar "HMS Gibraltar".The set of seven stamps depict:
22p - HMS Gibraltar was an Edgar-class cruiser launched in 1892, made into a depot ship in 1912, and sold 1923.
54p - HMS Gibraltar was a 101-gun screw first-rate launched in 1860, on loan as a training ship in 1872, renamedGrampian in 1889, and sold 1899.
64p - HMS Gibraltar was the 80-gun Fénix captured at the battle of Cape St. Vincent in 1780, used as a powder hulkin 1813 and broken up in 1836.
70p - HMS Gibraltar was an American 14-gun brig captured in 1779, then in turn captured by the Spanish in 1781and renamed Salvador, then recaptured by HMS Anson in 1800.
80p - HMS Gibraltar was to have been a 45,000 ton aircraft carrier, ordered fr om Vickers Armstrong on 15September 1943, but cancelled in October 1945.
£1 - HMS Gibraltar was a 20-gun sixth-rate built in 1711, rebuilt 1727, and sold 1748. It was the first command ofJohn Byng, who was aft erwards to be court-martialled and executed in the opening stages of the Seven Years' War.
£3 - HMS Gibraltar was a 20-gun sixth-rate in service fr om 1754 to 1773.
Technical Specs
| | |
| --- | --- |
| Design: | Stephen Perera |
| Illustration / Fotografie: | John Batchelor MBE |
| Drucker: | Cartor Security Printers |
| Verfahren: | Offset Lithography |
| Farben: | 4 colours |
| Briefmarken Format: | 43.5 x 28mm |
| Ausgabetag: | 2017-05-25 |
| Briefmarken Werte: | 22p, 54p, 64p, 70p, 80p, £1, £3 |
---