Catherine & William Stamp & Coin Cover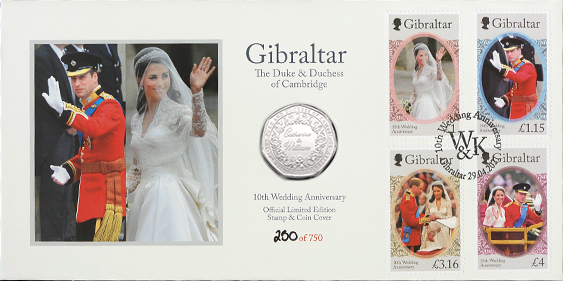 Catherine & William Stamp & Coin Cover
Catherine & William LIMITED EDITION 50p Stamp & Coin Cover
The official Gibraltar Stamp & Coin Cover commemorating The Duke & Duchess of Cambridge's 10th Wedding Anniversary. The cover includes the set of 4 stamps which are postmarked with the stamps first date of issue and the 50p coin.
The fifty pence coin features Catherine & William at the centre with a garland of flowers inspired by The Duchess of Cambridge's wedding bouquet and the inscription THE DUKE AND DUCHESS OF CAMBRIDGE –10TH WEDDING ANNIVERSARY. The obverse depicts Queen Elizabeth II.
The Stamp & Coin Covers are LIMITED to only 750 and are individually hand numbered.
---