Gibraltar - Romania Joint Issue
Buy whole issue for
£42.83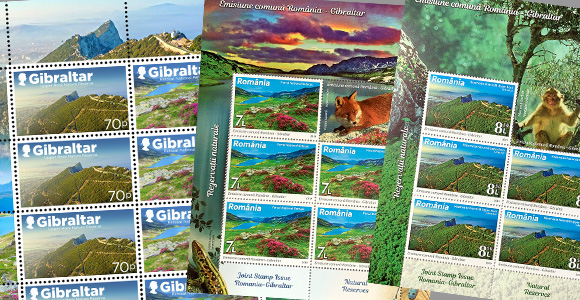 A joint stamp issue is the release of stamps by two or more countries commemorating a common topic, event or person. Joint issues share the same release date and are highly regarded amongst the philatelic community. Gibraltar has collaborated with Romania on this joint stamp issue with the common topic "Nature Reserves". The set of two stamps features an aerial view of Gibraltar's Upper Rock Nature Reserve and a view of Romania's Retezat National Park.
Upper Rock Nature Reserve
The Gibraltar Nature Reserve is a protected nature reserve that covers over 40% of Gibraltar's land area. It was established as the Upper Rock Nature Reserve in 1993 under the International Union for Conservation of Nature and is known for its semi-wild population of Barbary macaques and important resting point for migrating birds.
The Rock is part of the Betic Cordillera, formed about 200 million years ago. From the crest of the rock there is a dramatic view of the area, including Spain across the Bay of Gibraltar and Jebel Musa of Morocco across the Strait of Gibraltar. It is an area of considerable natural beauty and one of the main tourist attractions in Gibraltar. The Upper Rock Nature Reserve can be reached by road or by the Gibraltar Cable Car, next to the Gibraltar Botanic Gardens.
Retezat National Park
The Retezat National Park is a protected area located in the Retezat Mountains in Hunedoara county, Romania. It contains more than 20 peaks over 2,000 metres in altitude as well as 1,000 plant species. Located in the western part of the Southern Carpathians, occupying a surface of 38,138 hectares, this national park protects one of the last remaining pristine forests in Europe. Retezat National Park is home to 55 species of mammals, overall 23% of all European terrestrial mammals, including the iconic brown bears, wolves and lynx.
This protected area also shelters 120 bird species like the song thrush, the ring ouzel, the red-breasted flycatcher, the chiffchaff, nutcracker and the rare and magnificent golden eagle. Due to this great diversity, Retezat National Park was included in the Important Bird Areas Network. Even butterflies are a common presence, in number and species, and specialists designed two Prime Butterfly Areas in the area of the park. More than one-third of Romanian flora species can be found here and 90 of these plants are extremely important for conservation as they are endemic, while 130 are rare or vulnerable.
Technical Specs
| | |
| --- | --- |
| Design: | Stephen Perera |
| Illustration / Photography: | Romfilatelia & Icarus |
| Printer: | Bpost Security printing |
| Process: | Offset Lithography |
| Colours: | 4 colours |
| Stamp size: | 50 x 30mm |
| Issue date: | 2019-11-12 |
| Stamp Values: | 70p & £2.26 |
---