60 Years of the first Gibraltar Queen Elizabeth II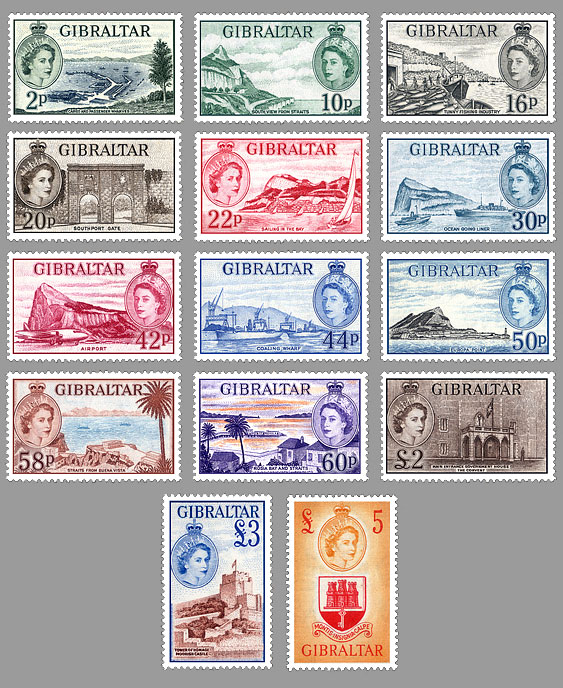 60 Years of the first Gibraltar Queen Elizabeth II (view technical specs)
"I declare before you all that my whole life, whether it be long or short, shall be devoted to your service and the service of our great imperial family to which we all belong"
The first definitive stamps of Queen Elizabeth II were placed on sale on 19th October 1953. The colony's first ever philatelic exhibition was held to coincide with the first day of issue. A special postmark was used at the exhibition held at the Calpe Institute which was run by the British Council.
The 1953 series was prepared using King George VI head depicting the St. Edward's Crown over the portrait's oval and was meant to replace the old definitive set of King George VI. On account of King George's VI death on the 6th February 1952, the same designs were used with the Queen Elizabeth II head as a substitution. The pictorial set of fourteen values was designed by Mr Norman Cumming, a Government draughtsman.
The Queen's Accession: King George VI died in his sleep at Sandringham House on the night of 6 February 1952. He was aged just 56. Long illness and the strain of leadership during the dark days of World War II had taken their toll on the much-loved monarch. Princess Elizabeth, the elder of the king's two daughters, was away in Kenya at the beginning of a royal tour of Commonwealth states, standing in for her father because of his ill health. The news of his death was broken to her by her husband Prince Philip. Elizabeth, aged just 25, faced not only the grief of losing her father, but the daunting prospect that she was now Queen of the United Kingdom and Head of the Commonwealth. Although Elizabeth had acceded to the throne, it would be another 16 months until her coronation.
The Coronation: Queen Elizabeth's arrival at Westminster Abbey, where 8,000 guests awaited, marked the beginning of the religious ceremony that would conclude with her coronation. She was dressed in white silk embroidered with the emblems of the Commonwealth nations and on top of it, the velvet Robe of State, more than 5 metres long, its train supported by seven maids of honour. At the altar, the Queen took the Coronation Oath, swearing to uphold justice and the laws of her realms and to defend the Anglican faith. Then, in the most ancient and sacred moment of the ceremony, the Queen was anointed with holy oil by the Archbishop of Canterbury whilst seated in the Coronation Chair. As she received royal sceptres, orb and robe, and finally the crown itself, the congregation responded with a shout of 'God save the Queen!'
Technical Specs
| | |
| --- | --- |
| Design: | Stephen Perera |
| Illustration / Photography: | Norman Cumming (1953) |
| Printer: | Lowe-Martin International |
| Process: | Offset Lithography |
| Colours: | 4 colours |
| Stamp size: | 42 x 26.44 |
| Issue date: | 2013-08-01 |
| Stamp Values: | 2p, 10p, 16p, 20p, 22p, 30p, 42p, 44p, 50p, 58p, 6 |
---