Centenary of Naval Aviation
Price Miniature Sheet:
£2.00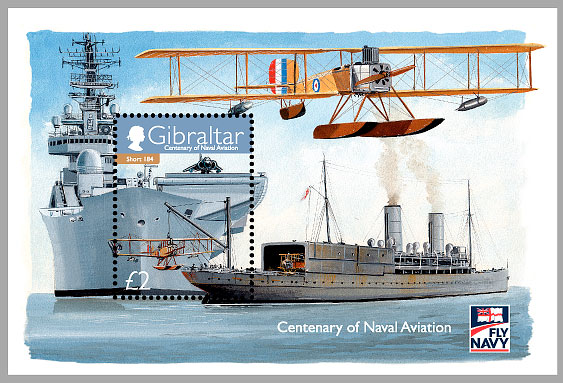 "I was delighted to be invited by the Gibraltar Philatelic Bureau to pen a few words about the Centenary of Naval Aviation in this special commemorative issue of postage stamps.
Gibraltar has been a critical centre of naval operations since first being ceded to Britain in 1713, and over this time, it has witnessed many changes to our Fleet and how we operate. The past hundred years have seen the most changes, and it is by no small measure, that some of these have been as a result of having the ability to project power against an aggressor or by provide support to those in need, using aircraft and specially trained crews than can operate equally well from ships at sea or from land.
The origin of our Centenary is that on 7 May 1909, the Admiralty took the bold step of placing an order for the first aircraft for military operations; an act that would ultimately lead to the Royal Navy setting many of the standards and practices that are used to this day in aviation ranging from safety, maintenance and control of aircraft, to the finer points of strategy and tactics in an air war.
The decision was also ultimately central in the spawning of the Royal Air Force as a third Armed Force in the United Kingdom, which formed on 1 April 1918, when the Royal Naval Air Service and the Royal Flying Corps amalgamated, a surviving legacy of this being, the first few bars of the RAF March, which starts with the bugle call, 'Fleet Air Arm, Fall In'.
Our history is rich: four naval airmen have won the Victoria Cross and to this day, naval aviators continue to support military and civil operations worldwide, and we have been heavily involved in providing the UK's fixed wing and helicopter capabilities in Iraq and Afghanistan. The history of Naval aviation has not however, always been easy; indeed it was left in something of a wilderness between 1918 and 1937, when the Admiralty lost control of all its air assets to the RAF. After much petitioning over several years, naval aviation was returned to naval control, unfortunately a long way behind in capability and equipment. With a huge amount of time, effort and energy being invested, within a very short time, the Service once again took the lead in the development of aircraft carriers and embarked flying operations; something that has been consistently reflected in the achievements of British, Commonwealth and Allied naval aviators who have been trained by the Royal Navy.
Since the Second World War, the there has not been one year in which the Fleet Air Arm has not been involved in conflict, peace keeping, humanitarian or life saving operations somewhere in the world and personally, I am extremely proud, particularly in this special year, to lead a superb team of professionals, who follow the traditions of the Fleet Air Arm well by setting examples and bringing innovation to the world of aviation."
Rear Admiral Simon Charlier Chief of Staff (Aviation and Carriers)

SPECIAL THANKS TO GARY RIMAY-MURANYI FOR HIS INVALUABLE HELP WITH THIS ISSUE.
Technical Specs
| | |
| --- | --- |
| Design: | Stephen Perera |
| Illustration / Photography: | Jon Batchelor |
| Printer: | BDT International, Ireland |
| Process: | Offset Lithography |
| Colours: | 4 cols. |
| Stamp size: | 30x40mm |
| Issue date: | 2009-03-15 |
| Stamp Values: | 42p x 6 (set), £2 (MS) |
---