1700th Ann. St George
Price Miniature Sheet:
£1.90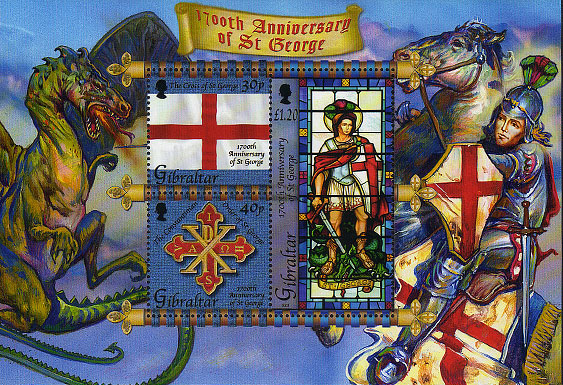 Set commemorating the 1700th anniversary of St. George.
Saint George (ca. 275/281 – 23 April 303) was, according to tradition, a Roman soldier in the Guard of Diocletian, who is venerated as a Christian martyr. In hagiography Saint George is one of the most venerated saints in the Roman Catholic Church, Anglican Church, Eastern Orthodox Church, Oriental Orthodox Church, and the Eastern Catholic Churches. He is immortalized in the tale of Saint George and the Dragon and is one of the Fourteen Holy Helpers. His memorial is celebrated on 23 April, and he is regarded as one of the most prominent military saints.
Saint George is the patron saint of Aragon, Catalonia, England, Ethiopia, Georgia, Greece, Lithuania, Palestine, Portugal, and Russia, as well as the cities of Amersfoort, Beirut, Bteghrine, Cáceres (Spain), Ferrara, Freiburg, Genoa, Ljubljana, Gozo, Milan, Pomorie, Qormi, Lod, Barcelona and Moscow, as well as a wide range of professions, organizations, and disease sufferers. (Wikipedia)
Technical Specs
| | |
| --- | --- |
| Design: | Anselmo Torres |
| Illustration / Photography: | Christian Hook |
| Printer: | Walsall Security Printer |
| Process: | Offset Lithography |
| Colours: | Multicoloured |
| Stamp size: | 30 x 40mm, 32 x 63mm & MS 150 X 100mm |
| Issue date: | 2003-04-23 |
| Stamp Values: | 30p, 40p, £1.20 |
---