Price Pack Miniature Sheet:
£2.65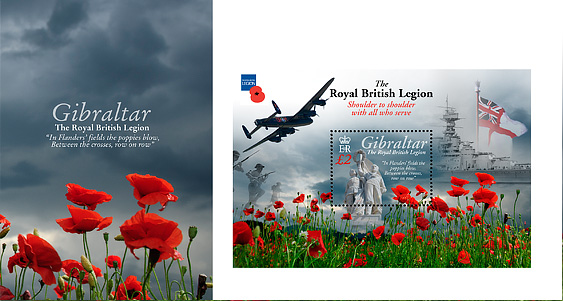 The British legion was formed on Sunday 15 May 1921 by the amalgamation of four other associations: the National Association of Discharged Sailors and Soldiers; the British National Federation of Discharged and Demobilized Sailors and Soldiers; Comrades of The Great War and the Officers' Association. The amalgamation of these four diverse bodies can be attributed largely to two men Field Marshall Earl Haig and Mr T F Lister of The Federation of Discharged and Demobilized Sailors and Soldiers. In 1971 the Legion celebrated its 50th anniversary and was granted the 'Royal' prefix in its title by HM Queen Elizabeth II.
Today, The Royal British Legion safeguards the welfare, interests and memory of those who have served and are serving in the Armed Forces. It is one of the UK's largest membership organisations and are recognised as custodians of Remembrance best known for the annual Poppy Day Appeal which was first held on 11 November 1921.
Some of the bloodiest fighting of World War One took place in the Flanders and Picardy regions of Belgium and Northern France. The poppy was the only thing which grew in the aftermath of the complete devastation. McCrae, a doctor serving there with the Canadian Armed Forces, deeply moved by what he saw, wrote the famous 'In Flanders' Fields' which in turn inspired Moina Bell Michael to pursue her goal of establishing the red poppy of Flanders fields as a universal symbol of tribute to the men who died in World War I and the surviving veterans of that war.
Technical Specs
| | |
| --- | --- |
| Design: | Stephen Perera |
| Illustration / Photography: | |
| Printer: | Lowe Martin, Canada |
| Process: | Offset Lithography |
| Colours: | 4 cols. |
| Stamp size: | 40 x 30mm |
| Issue date: | 2011-01-21 |
| Stamp Values: | 50p x 8 (stamps) £2 (MS) |
---