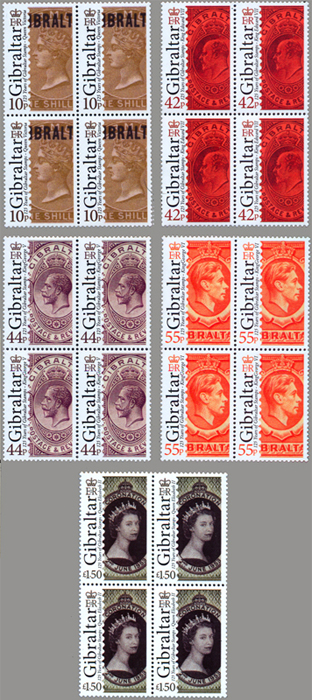 Early details of postal arrangements in Gibraltar are hard to establish although it is known that postal facilities were provided by the Civil Secretary's Office from 1749. Gibraltar became a packet port in July 1806 (a year after the Battle of Trafalgar in 1805), although the Civil Secretary's office continued to be responsible for other mail. The two services were amalgamated on 1st January 1857 as a Branch Office of the British Post Office with the control of the Gibraltar Post Office not reverting to Gibraltar until the 1st January 1886.
Spanish stamps could be used in Gibraltar from their introduction in 1850 and indeed such franking was required on letters weighing over ½ oz. sent to Spain after 1 July 1854. From 1 July 1856 until 1 January 1876 all mail to Spain required postage to be prepaid by Spanish stamps and there issues were supplied by the Gibraltar Postal Authority acting as a Spanish Postal Agent. The mail forwarded under this system was cancelled at San Roque with a horizontal barred oval, later replaced with by a cartwheel postmark showing numeral 63. From 1857 combination envelopes showing the 2d ship mail fee paid in British stamps and the inland postage by Spanish issues exist.
Stamps of Great Britain were issued for use in Gibraltar from 3 September 1857 to the end of 1885. The initial supply contained 1d, 4d and 6d values.
Finally on the 1st January 1886 the Colonial Government of Gibraltar assumed control of its Postal Services. As an interim measure, Bermuda stamp plates were overprinted with 'Gibraltar' using different colours. These were replaced by Gibraltar's own design in December of that same year.
Gibraltar's stamps were used with peseta values from 1889 to 1898 since trade was carried out in this currency. Stamp designs were rather stereotyped until 1931 when, at the Governor's request, Captain Garrood, Gibraltar's Crown Surveyor and Engineer, produced the first pictorial Definitive.
The first commemorative issue was in 1935. The release of such issues were confined up to 1966 to Crown Agents 'Omnibus' issues and marked events of international interest. From 1966 subjects of a predominantly local flavour were chosen as well as international events.
Today Gibraltar continues to adopt a conservative stamp issuing policy thus maintaining its high reputation amongst the philatelic fraternity. Gibraltar stamps are highly collected worldwide and the Gibraltar Philatelic Bureau proudly despatched its stamps to collectors worldwide.
The 125th Anniversary of Gibraltar stamps feature iconic stamps issued during five reigns: the 1886 Queen Victoria Bermuda overprint one shilling; the 1903 King Edward VII one pound; the 1926 King George V five pounds; the 1938 King George VI one pound and the 1953 Coronation of Queen Elizabeth II half shilling. These and the complete archive of Gibraltar stamps issued over the past 125 years are included in the The 'Historic Stamps' section of www.gibraltar-stamps.com
Technical Specs
| | |
| --- | --- |
| Design: | Stephen Perera |
| Illustration / Photography: | |
| Printer: | BDT Security Printers |
| Process: | Offset Lithography |
| Colours: | 4 cols. |
| Stamp size: | 25.73 x 39.56mm |
| Issue date: | 2011-04-15 |
| Stamp Values: | 10p, 42p, 44p, 55p, £1.50 |
---