RAF Squadrons (Issue 1)
Buy whole issue for
£22.18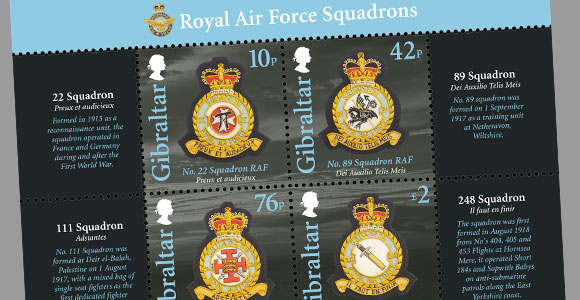 This issue is the first of a five year series depicting RAF Squadrons. The stamps will depict aircraft and the Miniature Sheets will feature Squadron blazer badges (sewn with gold thread) specially produced for us by the RAF Museum.
22 Squadron 'Preux et audicieux' No. 22 Squadron of the Royal Air Force operates the Sea King HAR.3 and HAR.3A at three stations in the southern UK. The squadron was originally formed in 1915 as an aerial reconnaissance unit of the Royal Flying Corps serving on the Western Front during First World War. Becoming part of the Royal Air Force on its formation in 1918, it was disbanded the following year as part of the post-World War I scaling back of the RAF. During World War II the Squadron operated in the torpedo bomber role over the North Sea and then in the Mediterranean and the Far East.
89 Squadron 'Dei Auxilio Telis Meis' No. 89 squadron was formed on 1 September 1917 as a training unit at Netheravon. The squadron was not used for operations and remained a training unit. It was disbanded on 4 July 1918. The squadron was formed again on 25 September 1941 at RAF Colerne and equipped with the Bristol Beaufighter night fighters . The squadron moved out to Middle East to defend the Nile delta and the Suez Canal.
111 Squadron 'Adstantes' No. 111 (Fighter) Squadron of the Royal Air Force operated the Panavia Tornado F3 from RAF Leuchars, Scotland until March 2011, when the squadron was disbanded, ending the Tornado F3's RAF service. No. 111 Squadron was formed at Deir el-Balah, Palestine on 1 August 1917, with a mixed bag of single seat fighters as the first dedicated fighter squadron in the region. Its mission was to restrict enemy reconnaissance flights and challenge the German fighter presence over Suez.
248 Squadron 'Il faut en finir' No. 248 Squadron was a squadron of the Royal Air Force, active immediately after World War I, and again during World War II. The squadron was first formed in August 1918 from No's 404, 405 and 453 Flights at Hornsea Mere, it operated Short 184s and Sopwith Babys on anti-submarine patrols along the East Yorkshire coast. It disbanded on 6 March 1919. The squadron reformed at RAF Hendon on 30 October 1939 as a Blenheim night fighter unit. In May 1940 a move to Scotland brought it back to Fighter Command for patrols over the North Sea, but in June it was again transferred to Coastal Command. Still based in Scotland, it now began anti-shipping attacks along the Norwegian coast as well as escort patrols and reconnaissance missions.
Technical Specs
| | |
| --- | --- |
| Design: | Stephen Perera |
| Illustration / Photography: | John Batchelor / Stephen Perera |
| Printer: | BDT International |
| Process: | Offset Lithography |
| Colours: | 4 cols. |
| Stamp size: | 40 x 36mm Stamps; 112 x 89mm MS |
| Issue date: | 2012-04-16 |
| Stamp Values: | 10p, 42p, 76p, £2 |
---