Referendum Coin Pack 15% discount
Price Special Folder: :
Ask for Availability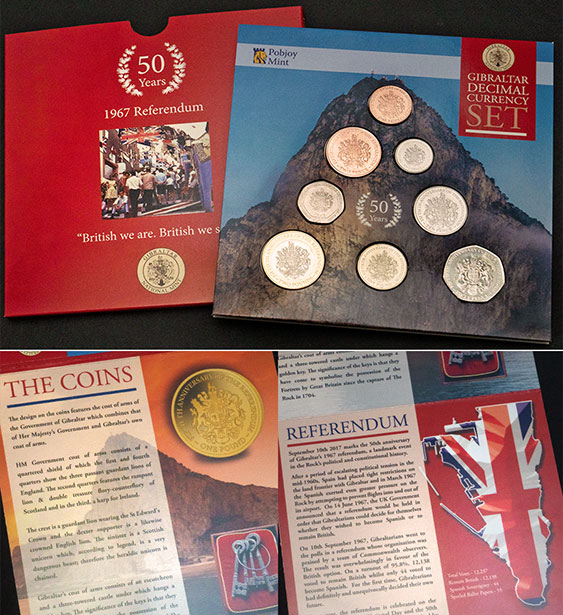 BLACK FRIDAY OFFER - Referendum Coin Pack with 15% discount. Original price £29.95. You save £4.50!
THE COINS
The design of the coin features the coat of arms of the Government of Gibraltar which combines that of Her Majesty's Government and Gibraltar's own coat of arms.
HM Government of Gibraltar coat of arms consists of a quartered shield of which the first and fourth quarters show the passant guardian lions of England. The second quarter features the rampant lion and double treasure Flory counterflory of Scotland and in the third a harp for Ireland.
The crest is a guardian lion wearing the St Edward's Crown and the dexter supporter is a likewise crowned English lion. The sinister is a Scottish unicorn which, according to legend, is a very dangerous beast therefore the heraldic unicorn is chained.
Gibraltar coat of arms consists of an escutcheon and a three-towered castle under which hangs a golden key. The significance of the keys is that they have come to symbolise the possession of the Fortress by Great Britain since the capture of The Rock in 1704.
THE REFERENDUM
The coin collection marks 50 Years of Gibraltar's referendum which was held on the 10th September 1967. The result of the Gibraltar referendum was an overwhelming vote by its inhabitants to retain their links with Britain. Of the 12,762 Gibraltarians qualified to vote, no fewer than 12,138 voted to remain with Britain. Only 44 opted for the transfer of the Rock to Spanish sovereignty.
The voting slips were made out in Spanish and English, and voters had the choice of voting "to pass under Spanish, sovereignty in accordance with the terms proposed by the Spanish Government on May 18, 1966," or "voluntarily to retain their link with the United Kingdom, with democratic local institutions and with the United Kingdom retaining its present responsibilities."
Every year the Gibraltar Referendum is celebrated on the 10th September by "National Day" and the 50th Anniversary was marked also by the issuance of these coins
Technical Specs
| | |
| --- | --- |
| Design: | |
| Illustration / Photography: | |
| Printer: | |
| Process: | |
| Colours: | |
| Stamp size: | |
| Issue date: | 2019-11-25 |
| Stamp Values: | |
---