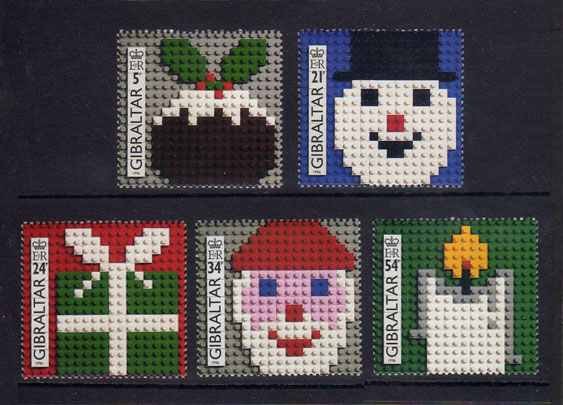 The 1996 Christmas stamps were designed using the world famous Lego bricks children love to play with.
The stamps depict the following traditional Christmas items made up of lego;
5p Christmas pudding (traditional in the UK),
21p Snowman,
24p Christmas gift,
34p Santa Claus
54p Christmas candle.
The LEGO Group is a privately held company based in Billund, Denmark. The company is still owned by the Kirk Kristiansen family who founded it in 1932.

The LEGO Group is engaged in the development of childrens creativity through playing and learning. Based on the world-famous LEGO brick, the company today provides toys, experiences and teaching materials for children in more than 130 countries. The LEGO Group has approximately 8,000 employees, and it is the worlds fifth largest manufacturer of play materials.

Technical Specs
| | |
| --- | --- |
| Design: | Keith Bassford |
| Illustration / Photography: | Lego |
| Printer: | House of Questa |
| Process: | Offset Lithography |
| Colours: | Multicoloured |
| Stamp size: | 32mm x 32mm (P 14 x 14) |
| Issue date: | 1996-11-27 |
| Stamp Values: | 5p, 21p, 24p, 34p, 54p |
---