HM Queen Elizabeth II 80th Birthday
Buy whole issue for:
Ask for Availability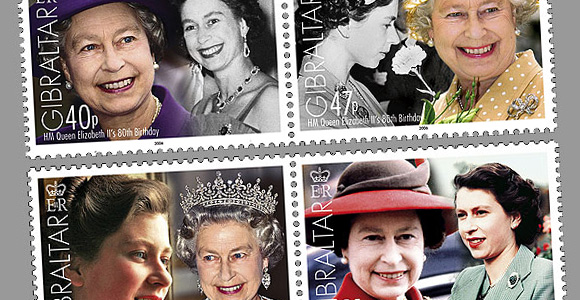 Her Majesty Queen Elizabeth II was born in April 1926 to the Duke and Duchess of York, who subsequently became King George VI and Queen Elizabeth. Her Majesty's first speech was made during wartime when, aged 14, she addressed the children of Britain and the Commonwealth. Between that time and her marriage to Lieutenant Philip Mountbatten, at the age of 21, Princess Elizabeth progressed along the path of official engagements.
Shortly after her 18th birthday, she had been appointed a Councillor of State which enabled her to carry out the duties of her father, then Head of State. This combination of an official role with an active participation in the Auxiliary Territorial Service, where she qualified as a driver during the war years, was most probably the first instance a female member of the Royal Family had been exposed to such a wide range of duties at a young age. The couple had two children, Charles, The Prince of Wales and Anne, The Princess Royal, before Elizabeth's coronation.
In 1953 Britain celebrated with street parties as Princess Elizabeth was crowned 'Elizabeth the Second, by the Grace of God of the United Kingdom of Great Britain and Northern Ireland' in Westminster Abbey. Not long afterwards they had two more children, Prince Andrew and Prince Edward. They have six grandchildren at present: The Prince of Wales' sons, William and Harry, the daughters of the Prince of York, Beatrice and Eugenie and The Princess Royals children Peter and Zara Phillips. Her Majesty's role is to represent Britain around the world, to preside at ceremonial occasions and to carry out constitutional functions. She is politically impartial and only acts on the advice of the government in office. However, bills cannot be passed without her consent. The Queen opens State Parliament with The Queen's Speech. Her Majesty is also the Head of the Commonwealth and has visited all 54 Commonwealth countries in her reign. She is the Head of the Church of England and the Church of Scotland, while part of her title is Defender of the Faith. The Channel Islands (Guernsey and Jersey) and the Isle of Man are also under the rule of the Queen and Crown.
The year 2002 saw The Queen's Golden Jubilee, marking 50 years since The Queen's Accession. This special milestone had previously been achieved by only five earlier British monarchs - King Henry III, King Edward III, King James VI and I, King George III and Queen Victoria. Celebrations in the United Kingdom ran throughout the summer months of 2002, including extensive regional visits. Now in the 80th year of her life, Her Majesty retains the vitality and commitment we have always associated with her. 
Technical Specs
| | |
| --- | --- |
| Design: | Stephen Perera |
| Illustration / Photography: | Corbis Library |
| Printer: | BDT International, Ireland |
| Process: | Offset Lithography |
| Colours: | 4 cols. |
| Stamp size: | 40 x 30mm |
| Issue date: | 2006-03-30 |
| Stamp Values: | 38p, 40p, 47p, £1.00 |
---