50 Years of 'Europa CEPT' Stamps 1956-2006
Buy whole issue for
£35.65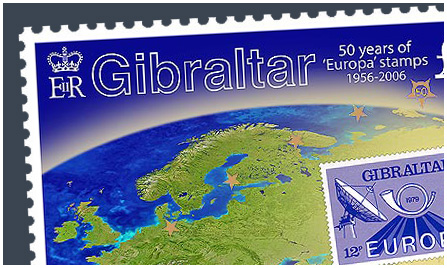 Gibraltar celebrates 50 years of Europa stamps. The stamp depicts the first official Gibraltar Europa stamp from 1979. The 'coup de grace' is the use of gold, embossed and foil-blocked over the stars finishing off the issue beautifully.
The idea of issuing a 'joint stamp emission' was born in 1952. The motive was to "symbolise a community of interest and objectives". Six countries, the same countries that signed the Treaty of Rome on the 25th of March 1957 (Belgium, France, West-Germany, Italy, Luxembourg and the Netherlands) were also the first six countries to release their first set of Europa stamps on the 15th September 1956 (13 stamps).
A 'common design' by the French artist, Daniel Gonzague, was used by all countries. This was a tower formed by the 6 letters of the Latin word for Europe: Europa. In 1974 the 'common theme' system replaced the 'common design' which had been used since 1956.
A theme is chosen for all countries to issue their stamps under the 'Europa' banner. 'Gastronomy' is the theme for 2005; 'The integration as seen by young people' for 2006 and '100 years of scouting' for 2007.
Technical Specs
| | |
| --- | --- |
| Design: | Stephen Perera |
| Illustration / Photography: | Stephen Perera |
| Printer: | BDT International, Ireland |
| Process: | Offset Lithography |
| Colours: | 4 cols. |
| Stamp size: | 50.8 x 38.1mm |
| Issue date: | 2005-09-30 |
| Stamp Values: | £5 |
---