RAF Centenary
Buy whole issue for:
Ask for Availability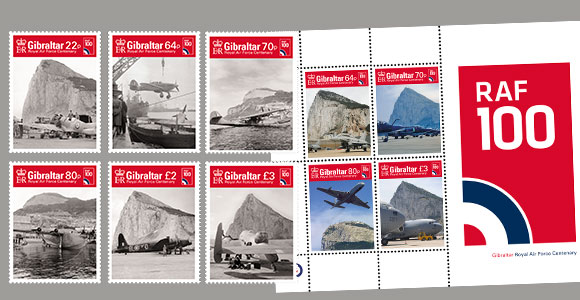 On 1 April 2018, the Royal Air Force celebrated its 100th Anniversary. The centenary itself will be marked by special events, activities and other initiatives at regional and national levels running from April to the end of November 2018. The centrepiece of RAF100 will take place on 10 July, with a centenary service in Westminster Abbey, followed by a parade in The Mall and spectacular fl ypast over Buckingham Palace.
A set of ten stamps has been issued to commemorate the RAF Centenary. The stamps depict a selection of aircrafts which have been stationed in Gibraltar. Aircrafts as follows;
Set of six stamps: 22p - Supermarine Spitfire Mark V / 64p- Hawker Sea Hurricane Mark I / 70p - Consolidated Catalina Mark I / 80p - Short Sunderland Mark I / £2 - Vickers Wellington Mark IC / £3 - Lockheed Hudson III
Miniature Sheet: 64p - Eurofighter Typhoon T.1 / 70p - Hawker Siddeley Buccaneer S.2 / 80p - Hawker Siddeley Nimrod MR.1 / £3 - Boeing C-17A
Technical Specs
| | |
| --- | --- |
| Design: | Stephen Perera |
| Illustration / Photography: | IWM & Crown Copyright 2018 |
| Printer: | Bpost Security Printers |
| Process: | Offset Lithography |
| Colours: | 4 colours |
| Stamp size: | 30 x 40mm |
| Issue date: | 2018-05-18 |
| Stamp Values: | 22p, 64p, 70p, 80p, £2, £3 |
---