Cryptocurrency Sheet - £2
Price :
Ask for Availability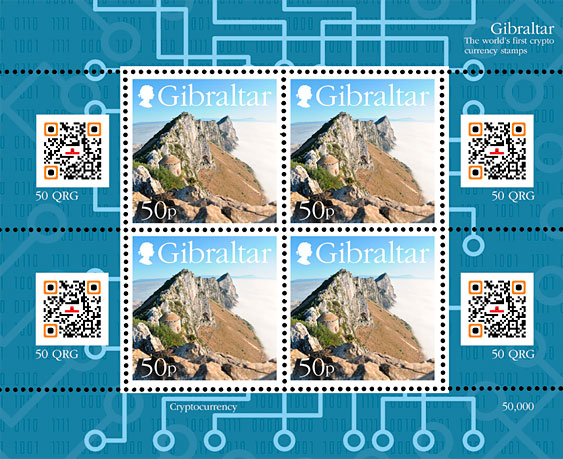 Gibraltar at the Digital Forefront
Crypto currency is one of the most innovative new financial technologies available. Gibraltar is at the forefront of this promissing digital financial engineering and has been receiving high acclaim within global distributed ledger technology and cryptocurrency circles. On the 1st of January 2018 Gibraltar became one of the first jurisdictions in the world to regulate businesses and individuals who are using distributed ledger technologies to hold or transfer value for others.
Gibraltar wishes to commemorate this innovative new technology by issuing a persoanlised stamp sheet featuring the Rock of Gibraltar issued stamp to highlight and demonstrate this new technology. The 50p stamp and its four-stamp collector block below has been created by local graphics designer Mr. Stephen Perera.
he design, as you can see, features 4 identical QR Codes
Any of these 4 identical QR Codes when scanned with a smartphone/tablet offers the opportunity for first time owners of these collectible blocks to collect free crypto coins which will be freely trading.
In order to make this QR code and unique concept a reality a website has been created which links when scanning the bcanning the QR code to permit first owners of these limited-edition blocks to redeem 200 QRG Cryptocurrency tokens/coins for each block of these stamps, one time only per unique serial number. printed on the actual shhet
Technical Specs
| | |
| --- | --- |
| Design: | Stephen Perera |
| Illustration / Photography: | Stephen Perera |
| Printer: | Lowe Martin Security Printers |
| Process: | Offset Lithography |
| Colours: | 4 colours |
| Stamp size: | 40mm x 40mm Block of 4 |
| Issue date: | 2018-05-15 |
| Stamp Values: | 50p x 4 (200 QRG per block) |
---