Europa 2004 'Vacations'
Buy whole issue for
£29.45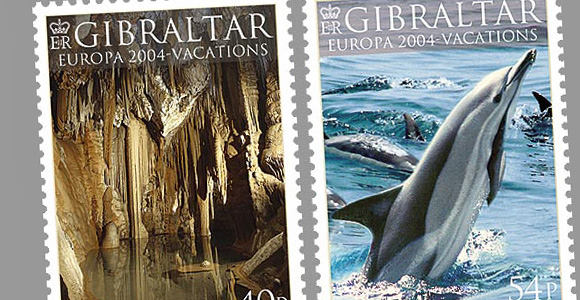 The theme for the 2004 Europa stamp issue is Vacations
The Rock of Gibraltar is one of the best-known landmarks in the world. It is strategically located at the crossroads of the Atlantic Ocean and the Mediterranean Sea. It also finds itself between two continents that are vastly different, Europe and Africa. All this makes it a unique, vibrant and safe destination.
Whilst in Gibraltar, you are able to see sites like the famous Rock Apes, St Michael's Cave, the Great Seige Tunnels and even go dolphin watching. Apart from these attractions, there are a whole host of other activities and places you can visit. You can tour the World War Two tunnels (there are 53 km of tunnels inside the Rock), Lower St Michael's Cave or the Museum.
Gibraltar's pedestrian shopping areas and marinas boast a multitude of VAT free shops, bars and restaurants that cater for your every need.
Europa stamps have been issued annually since 1956. First sets representing the founding 6 members of the ECSC, European Coal and Steel Community, then by the European Conference of Postal and Telecommunications Administrations (CEPT) in 1959, (first stamps issued in 1960) and by PostEurop since 1993. Initially in 1956 a total of 13 stamps were issued with a common design from 6 different countries. A common theme of Peace and Welfare through agriculture and industry was used for 1957.
The common design reappeared in 1958 and continued until 1973. From 1974 the designs reflect a common theme. The common design idea replaced the common theme in 1984, which was the CEPT 25th Anniversary (1959-84) and shows a symbolic bridge, said to represent Liaison, Exchange and Communication. With the split of posts and telecoms providers in most countries, CEPT is no longer responsible, but the postal authorities under the guidance of PostEurop continue the Europa tradition. From 1993 all the stamps have "Europa" inserted into the design in small print. (Source Wikipedia)
Technical Specs
| | |
| --- | --- |
| Design: | Stephen Perera |
| Illustration / Photography: | Stephen Perera |
| Printer: | De La Rue |
| Process: | Offset Lithography |
| Colours: | 4 cols. |
| Stamp size: | 30 x 40mm |
| Issue date: | 2004-02-20 |
| Stamp Values: | 40p, 40p, 54p, 54p |
---