Cryptocurrency Stamp
Buy whole issue for:
Ask for Availability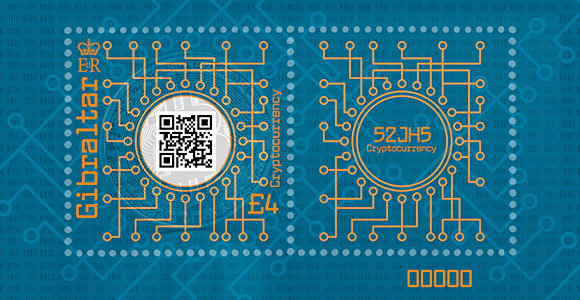 Gibraltar Cryptocurrency Stamp
To celebrate the impact Blockchain is set to have on the world, Her Majesty's Government of Gibraltar and the Gibraltar Philatelic Bureau Limited ("GPBL") are issuing a limited edition 2021 commemorative 'Cryptocurrency' postage stamp dedicated to this revolutionary new technology. The Crypto Postage Stamp will be tied to the release of a blockchain based Digital Collectible, or non-fungible token ("NFT") counterpart, exclusively produced by Coinsilium in collaboration with Vietnam-based RedFOX Labs Joint Stock Company (RedFOX) under the terms of a Technical Development and Support agreement announced by the Company on 10 December 2020.
The Crypto Postage Stamp series, limited to 50,000 in total, will come in a commemorative presentation pack. The presentation pack will include featured articles on various topics, covering the birth and rise of Bitcoin and cryptocurrencies, the evolution of blockchain technology, Gibraltar's Blockchain/DLT hub and the story of how 'Bitcoin Pizza Day' came to be celebrated on 22nd May each year by the estimated 100 million members of the global Bitcoin community.
Gibraltar NFT Digital Collectible Counterpart
Purchasers of the Gibraltar Crypto Stamp will also receive a first entitlement to an NFT collectible counterpart, with an exclusivity period of approximately 8 weeks, prior to general release of the NFT, slated for around mid-July 2021.
A total of 100,000 Gibraltar NFTs will be pre-minted and will be delivered online in a digital sealed pack, each pack containing two NFTs.
The NFTs will be minted with five levels of scarcity: Common, Uncommon, Rare, Ultra Rare and Mythic Rare. The artwork will include 22 individual exclusively commissioned iconic images of Gibraltar which will follow the design theme of the Crypto Postage Stamp. There will also be a further 2 'Mythic Rare' NFTs ,each with specific design characteristics.
Please note that the prices for the NFT counterpart to the Cryptocurrency Stamp will be denominated in cryptocurrency and will be sold separately.
Full instructions on how to purchase your NFT counterpart with cryptocurrency will be provided together with your invoice which will be issued at the time of dispatch.
Technical Specs
| | |
| --- | --- |
| Design: | Stephen Perera |
| Illustration / Photography: | Stephen Perera |
| Printer: | Cartor Security Printers |
| Process: | Offset Lithography |
| Colours: | 4 colours |
| Stamp size: | Stamp: 40x40mm. M/S: 100x60mm |
| Issue date: | 2021-05-17 |
| Stamp Values: | £4 |
---