Europa 2013 'Postal Vehicles
Price First Day Cover:
£3.46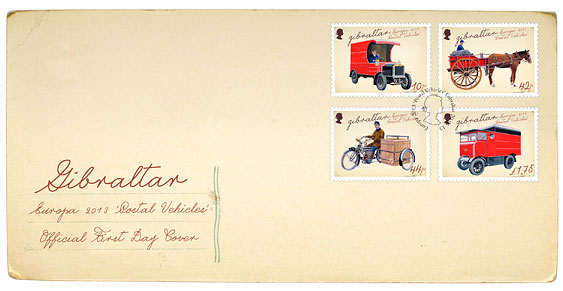 The Mail Cart
The extension of rural deliveries to each household completed in 1897 saw the need for horsed mail carts as these communities were often not conveniently served by rail to allow mail from Head and Salaried Post Offices to be transported there. They were provided by contractors who tendered for GPO services providing drivers and mail carts. On arrival at the rural sub-office, letters and parcels were then delivered by postmen, often part-time ones known as Auxiliary Postmen. The advent of GPO-owned motor vehicles in the 1920s saw most of these mail cart contracts and the services provided by mail vans driven by postmen terminated thereby effecting a considerable economy in transport costs.
1914 Rover Motor Cycle Combination DU 5660:
In 1914, 20 Motor Cycle Combinations, with a capacity of 18 cubic feet, were introduced to replace postmen on horseback on rural deliveries. They comprised 4 Rovers, 10 New Hudson and 6 Douglas machines. They were all single cylinder of 3½ horsepower with wicker or metal side carriers. The stamp depicts one of the 4 Rovers that operated at Helensburgh, Slough and Alnwick. Livery of the machine is black but for the fuel tank in gold with the darker sections in bright red. Mail was carried in a wicker basket with brass sidelamp attached.
1928 Electromobile 1-ton battery-electric van YX 7649:
1928/29 saw experiments with electric vehicles and YX 7649 was one of 3 Electromobile 1-ton vehicles built on chassis imported from the U.S.A. It was used in Leeds until about 1935. Livery is 'Post Office red' with a black roof, black chassis and black wheels. The oil lamps are black and the electric lights are red.
1911 Dennis mailvan used on London contract services LE 304:
In 1970 the Post Office decided to build a replica of one of the mailvans used by contractors in the London area. The chosen vehicle was a Dennis 2-ton van operated by McNamara & Co. Ltd. McNamara started to experiment with motor vehicles on its Inner London mail contract with the GPO and some 67 motor vans were in operation. McNamara continued to provide contract services to the GPO until after the Second World War. The replica was built by the Post Office on a BMC 250JU chassis and this was fitted with replica bodywork built by the Post Office at its Kidbrooke repair depôt. It is finished (incorrectly) in the later brighter currant red adopted by the GPO in 1968.
Technical Specs
| | |
| --- | --- |
| Design: | Stephen Perera |
| Illustration / Photography: | John Batchelor MBE |
| Printer: | Cartor Security Printers |
| Process: | Offset Lithography |
| Colours: | 4 colours |
| Stamp size: | 40 x 30mm |
| Issue date: | 2013-06-20 |
| Stamp Values: | 10p, 42p, 44p, £1.75 |
---