Post & Go Year of the Pig
Compri tutti i prodotti disponibili:
Chiedere prezzo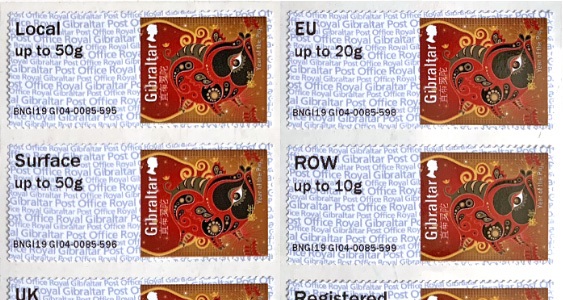 L\\\\\\\'\\\\\\\"anno del maiale\\\\\\\'\\\\\\\' cinese è iniziato il 5 febbraio 2019. Il maiale occupa la dodicesima posizione tra gli animali dello zodiaco cinese. Esistono inoltre 5 tipi di maiali, che prendono il nome dagli elementi cinesi: metallo, acqua, legno, fuoco e terra. Sono diligenti, compassionevoli e generosi. Hanno una grande capacità di concentrazione: una volta fissato un obiettivo, dedicheranno tutte le proprie energie per raggiungerlo. Anche se i maiali cercano aiuto raramente, quando arriva il momento di dare una mano agli altri non si tirano indietro.
Technical Specs
| | |
| --- | --- |
| Disegno: | Stephen Perera |
| Illustrazione/fotographia: | © bajena and siewhoong at istockphoto.com |
| Stampatore: | Walsall Security Printers |
| Processo: | Offset Lithography |
| Colori: | 4 colours |
| Dimensione: | 55 x 25mm |
| Data di emissione: | 2019-11-13 |
| Valore: | 22p, 40p, 64p, 70p, 80p, £3 |
---