65th Ann of the Coronation
Prezzo Busta primo giorno:
£4.85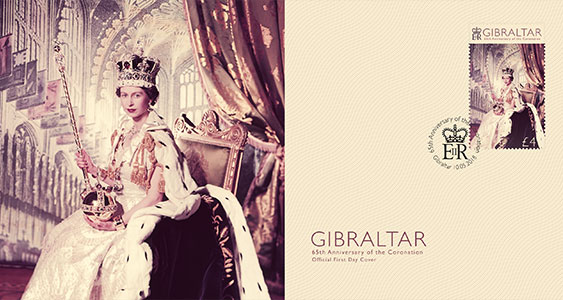 L\'incoronazione della Regina Elisabetta II è stata la cerimonia in cui Elisabetta II fu incoronata regina di Regno Unito, Canada, Australia, Nuova Zelanda, Sudafrica, Ceylon e Pakistan, assumendo così anche il ruolo di capo del Commonwealth. Elisabetta è ascesa al trono di questi paesi in seguito alla morte di suo padre, Re Giorgio VI, il 6 febbraio 1952. L\'incoronazione avvenne più di un anno dopo la salita al trono, il 2 giugno 1953, in rispetto della tradizione che richiede un periodo di lutto in ricordo del precedente monarca. Durante la cerimonia di incoronazione, la Regina Elisabetta giurò solennemente di sostenere la legge nel suo regno e di assumere il governo della Chiesa d\'Inghilterra.
Technical Specs
| | |
| --- | --- |
| Disegno: | Stephen Perera |
| Illustrazione/fotographia: | Sir Cecil Beaton CBE © Bettmann / Getty Images |
| Stampatore: | Bpost Security Printers |
| Processo: | Offset Lithography |
| Colori: | 4 colours |
| Dimensione: | 30 x 50mm |
| Data di emissione: | 2018-05-10 |
| Valore: | £4 |
---