Gibraltar Chess festival
Price Pack Set: :
Ask for Availability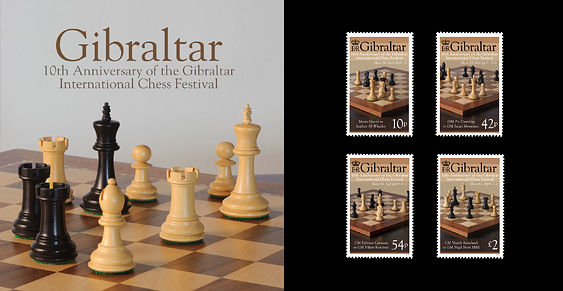 In his book 'A Century Of British Chess', Philip Sergeant writes that Britain's first chess club, Parsloe's, which opened in 1774, numbered among its early supporters George Eliot, later General Eliot, Governor of Gibraltar and commander of the forces during the Great Siege of 1779-1783. Many famous military men have played chess. Down the ages Gibraltarians, together with other local residents and Gibraltar garrison personnel, have included chess amongst their leisure activities.
The Gibraltar International Chess Festival, now one of the most prestigious open tournaments in the world, began as a much smaller event in 2003. Its popularity has grown year on year, and today well over 300 participants, players of all levels, return to the Rock every January, many calling Gibraltar their favourite event on the chess calendar. For eleven days the festival venue, the Caleta Hotel, is transformed into a hive of chess activity. Arriving here from all corners of the world, players can be sure that old friendships will be renewed, and - win or lose - new ones made.
In a separate development, the first Gibraltar International Junior Chess Festival took place in August, 2011. Children from the UK, Spain, and Gibraltar took part. Over the past decade, thanks to a dedicated teaching programme, many hundreds of children in Gibraltar have received chess tuition at school. One young Gibraltarian, Stephen Whatley, has scored notable tournament successes in the UK, while several other young local players show similar promise, with more juniors keen to follow.
The games featured on the stamps have been specially chosen as representing the best of the many thousands contested in Gibraltar over the past decade. All the players shown are grandmasters. Two are women. Pia Cramling (Sweden) has played in all ten Gibraltar festivals, while Natalia Zhukova (Ukraine) won the top female award in 2010. Michael Adams, Nigel Short (both England) and Vassily Ivanchuk (Ukraine) are all former Gibraltar champions. Viktor Bologan (Moldova) and Fabiano Caruana (Italy) are elite players with aggressive styles popular with the public. Chess legend Viktor Korchnoi (Switzerland) fought two World Championship matches with arch-rival Anatoly Karpov.
The festival is followed by fans online thanks to the technical back-up of Gibtelecom, Gibraltar's main telecommunications provider, whose loyal support over ten years has been crucial to the festival's development and success. Tradewise Insurance (Twi) took over the role of lead sponsor in 2011, and demonstrating the fullest commitment they are raising the profile of chess still further. Thanks to these, and other, local sponsors, and with an important contribution from the Gibraltar Government's Sports & Leisure Authority, the small territory of Gibraltar has, in ten years, firmly established itself as a capital city of world chess.
Special thanks to: Mr Brian Callaghan OBE, Mr Tim Bristow and Mr Stuart Conquest
Technical Specs
| | |
| --- | --- |
| Design: | Stephen Perera |
| Illustration / Photography: | Stephen Perera |
| Printer: | BDT International |
| Process: | Offset Lithography |
| Colours: | 4 cols. |
| Stamp size: | 25.73 x 39.56mm |
| Issue date: | 2012-01-23 |
| Stamp Values: | 2p, 30p, 75p, £2 |
---