Europa 2007 '100 Years of Scouts'
Buy whole issue for:
Ask for Availability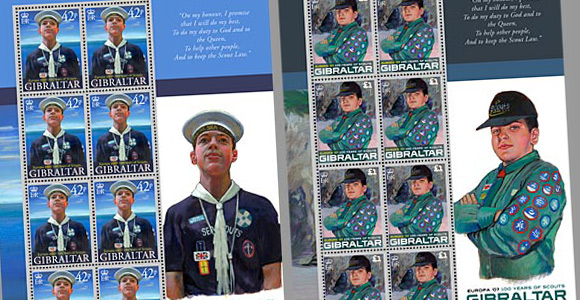 Scouting is a worldwide movement with the stated aim of supporting young people in their physical, mental and spiritual development. Scouting began in 1907 when Robert Baden Powell, Lieutenant General in the British Army, held the first Scouting encampment at Brownsea Island in England. 2007 marks the centenary of Scouting worldwide whilst Scouting in Gibraltar started in 1908. The set depicts Gibraltar Scouts from 1908, the 1950's, a 1980's Sea Scout and modern day Scout.
Europa stamps have been issued annually since 1956. First sets representing the founding 6 members of the ECSC, European Coal and Steel Community, then by the European Conference of Postal and Telecommunications Administrations (CEPT) in 1959, (first stamps issued in 1960) and by PostEurop since 1993. Initially in 1956 a total of 13 stamps were issued with a common design from 6 different countries. A common theme of Peace and Welfare through agriculture and industry was used for 1957. The common design reappeared in 1958 and continued until 1973. From 1974 the designs reflect a common theme. The common design idea replaced the common theme in 1984, which was the CEPT 25th Anniversary (1959-84) and shows a symbolic bridge, said to represent Liaison, Exchange and Communication. With the split of posts and telecoms providers in most countries, CEPT is no longer responsible, but the postal authorities under the guidance of PostEurop continue the Europa tradition. From 1993 all the stamps have "Europa" inserted into the design in small print. (Source Wikipedia)
Technical Specs
| | |
| --- | --- |
| Design: | Stephen Perera |
| Illustration / Photography: | Christian Hook |
| Printer: | Lowe-Martin, Canada |
| Process: | Offset Lithography |
| Colours: | 4 cols. |
| Stamp size: | 30.5 x 40mm |
| Issue date: | 2007-06-30 |
| Stamp Values: | 8p, 40p, 42p, £1 |
---