Gibraltar Fire & Rescue Service 150th An
Buy whole issue for
£16.50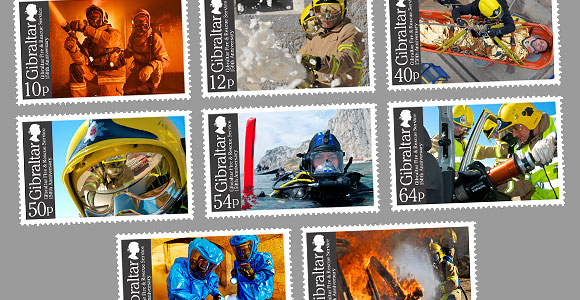 This year the Gibraltar Fire and Rescue Service will celebrate the 150th Anniversary of the formation of a Fire Service in Gibraltar. It was on the 20 of November of 1865 that an Order in Council established the Sanitary Commissioners of Gibraltar (the fore-runners of the City Council) whose responsibility was to ensure that adequate resources to prevent and fight fires were provided in Gibraltar.
Section 27 of the Order in Council stated "...for the extinction and prevention of fire, or for the governance of traffic in, upon, and throughout the same, and subject also, as to all such wells and pumps, to all such rules and regulations for the extinction and prevention of fire as may from time to time in like manner be made by the Governor and delivered to the Commissioners."
On the 16th June 1976 the Fire Service Ordinance, was passed in the Gibraltar House of Assembly. The Ordinance set out the constitution, duties and powers of the Gibraltar Fire Service;
"There shall be a fire brigade, to be called the City Fire Brigade, for the purpose of protecting life and property in case of fire or other calamity and of extinguishing fires endangering life and property within Gibraltar."
On the 20 November of 2014 the City Fire Brigade ceased to exist and the organisation was renamed The Gibraltar Fire and Rescue Service a change which truly represents the modern and progressive role carried out by the Service.
This set of eight stamps is representative of many of the diverse incidents that the Gibraltar Fire and Rescue Service have to attend to as part of our statutory duties. In the stamps we have attempted to depict some of the roles they carry out such as; fighting fires in buildings and in vehicles, the rescue of a person from heights (tower crane), the use of foam making equipment, the release of persons trapped in vehicles as a result of a road traffic incident, firefighters in gas-tight suits dealing with a chemical or biological hazard and members of the service carrying out sub-aqua rescue training.
Technical Specs
| | |
| --- | --- |
| Design: | Stephen Perera |
| Illustration / Photography: | Nicholas Ferrary |
| Printer: | Lowe Martin Group |
| Process: | Offset Lithography |
| Colours: | 4 cols. |
| Stamp size: | 48 x 30.5mm |
| Issue date: | 2015-02-11 |
| Stamp Values: | 10p, 12p, 40p, 50p, 54p, 64p, 70p, £2 |
---