Europa 2017 'Castles'
Buy whole issue for
£34.70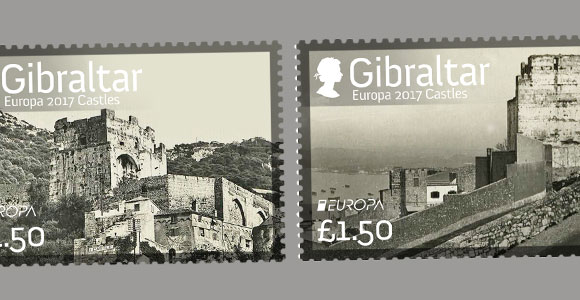 The Moorish Castle is the name given to a medieval fortification in Gibraltar comprising various buildings, gates, and fortified walls, with the dominant features being the Tower of Homage and the Gate House. Part of the castle itself also housed the prison of Gibraltar until it was relocated in 2010. Its is one of Gibraltar's most popular tourist attractions.
The Tower of Homage is clearly visible to all visitors to Gibraltar, not only because of its striking construction but also because of its dominant and strategic position. Though sometimes compared to nearby alcazars in Spain, the Moorish Castle in Gibraltar was constructed by the Marinid dynasty, making it unique in the Iberian Peninsula.
The present Tower of Homage, and most of what is visible today of the Castle, was rebuilt during the second Moorish period of occupation in the early 14th century, after its near destruction during a reconquest of Gibraltar by the Moors following a re-occupation by Spanish forces from 1309 to 1333.
Construction of the Moorish Castle is believed to have commenced in AD 711 though the date of its completion is not recorded. Its walls enclosed a considerable area, reaching down from the upper part of the Rock of Gibraltar to the sea. The most conspicuous remaining parts of the Castle are the upper tower, or Tower of Homage, together with various terraces and battlements below it, and the massive Gate House, with its cupola roof.
The Moorish occupation was by far the longest in Gibraltar's recorded history, having lasted from 711 to 1309 and then again from 1350 to 1462, a total of 710 years. Historical importance of Gibraltar to both Muslims and Christians lies in the fact that the Moorish invasion and occupation of parts of western Europe started from Gibraltar in 711 and, through to its final recapture by Spaniards in 1462, Moorish rule was gradually undermined until, with the fall of Granada in 1492, Moorish occupation of parts of western Europe came to an end after 781 years.
The Moorish conquest of Spain was led by Tarik ibn Ziyad and Musa ibn Nusayr, who may have landed in Europe at or near Gibraltar. Gibraltar thus became the stepping-stone to the Moorish conquests of most of Spain and part of France. The strategic importance of Gibraltar rose in the last years of the Moorish rule, when, after the successful Spanish reconquest of the entire Guadalquivir valley, Gibraltar became one of the key elements in communication between the Kingdom of Granada and Moorish domains in northwestern Africa.
Technical Specs
| | |
| --- | --- |
| Design: | Stephen Perera |
| Illustration / Photography: | © Gibraltar Archives |
| Printer: | Lowe-Martin Group, Canada |
| Process: | Offset lithography |
| Colours: | 4 colours |
| Stamp size: | 43.2 28.8mm |
| Issue date: | 2017-02-06 |
| Stamp Values: | 1.50 x 2 |
---