Accession 65th Anniversary
Buy whole issue for
£34.48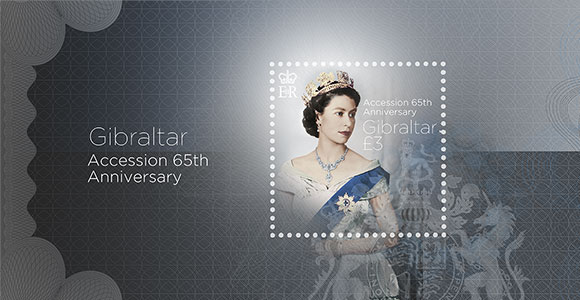 During 1951, George VI's health declined and Elizabeth frequently stood in for him at public events. When she toured Canada and visited President Harry S. Truman in Washington, D.C., in October 1951, her private secretary, Martin Charteris, carried a draft accession declaration in case the King died while she was on tour. In early 1952, Elizabeth and Philip set out for a tour of Australia and New Zealand by way of Kenya. On 6 February 1952, they had just returned to their Kenyan home, Sagana Lodge, after a night spent at Treetops Hotel, when word arrived of the death of the King and consequently Elizabeth's immediate accession to the throne. Philip broke the news to the new Queen. Martin Charteris asked her to choose a regnal name; she chose to remain Elizabeth, "of course".She was proclaimed queen throughout her realms and the royal party hastily returned to the United Kingdom.She and the Duke of Edinburgh moved into Buckingham Palace.
With Elizabeth's accession, it seemed probable that the royal house would bear her husband's name, becoming the House of Mountbatten, in line with the custom of a wife taking her husband's surname on marriage. The British Prime Minister, Winston Churchill, and Elizabeth's grandmother, Queen Mary, favoured the retention of the House of Windsor, and so on 9 April 1952 Elizabeth issued a declaration that Windsor would continue to be the name of the royal house. The Duke complained, "I am the only man in the country not allowed to give his name to his own children." In 1960, after the death of Queen Mary in 1953 and the resignation of Churchill in 1955, the surname Mountbatten-Windsor was adopted for Philip and Elizabeth's male-line descendants who do not carry royal titles.
Despite the death of Queen Mary on 24 March, the coronation on 2 June 1953 went ahead as planned, as Mary had asked before she died. The ceremony in Westminster Abbey, with the exception of the anointing and communion, was televised for the first time. Elizabeth's coronation gown was embroidered on her instructions with the floral emblems of Commonwealth countries: English Tudor rose; Scots thistle; Welsh leek; Irish shamrock; Australian wattle; Canadian maple leaf; New Zealand silver fern; South African protea; lotus flowers for India and Ceylon; and Pakistan's wheat, cotton, and jute.
Technical Specs
| | |
| --- | --- |
| Design: | Stephen Perera |
| Illustration / Photography: | İGetty Images |
| Printer: | Cartor Security Printers |
| Process: | Offset Lithography |
| Colours: | 4 colours |
| Stamp size: | 40 x 40mm |
| Issue date: | 2017-02-06 |
| Stamp Values: | 22p, 64p, 70p, 80p, £2, £3 & £3 MS |
---