Year of the Goat
Price First Day Cover:
£2.25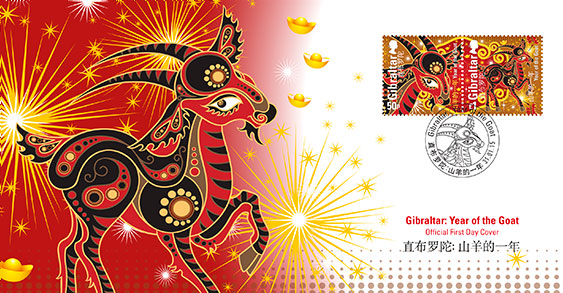 The Year of the Goat begins on the 19th February 2015 and finishes on the 7th February 2016, marking the beginning of the Year of the Monkey.
Within the Chinese Zodiac, the Goat occupies the 8th position and symbolizes a creative, intelligent and generous character. Generally considered to be quiet and reserved, those born under the zodiac sign of the Goat are polite, kind-hearted and dependable people. Always keen to please others, they usually have a large group of friends but run the risk of their generosity being taken advantage of. According to the Chinese calendar, those born in the Year of the Goat are fond of quiet living and, as such, are more than comfortable being alone but can sometimes be too timid and indecisive in their actions.
Technical Specs
| | |
| --- | --- |
| Design: | Stephen Perera |
| Illustration / Photography: | © bajena and siewhoong at istockphoto.com |
| Printer: | Cartor Security Printers |
| Process: | Offset Lithography |
| Colours: | 4 colours |
| Stamp size: | 31.75 x 31.75mm |
| Issue date: | 2015-01-30 |
| Stamp Values: | 50p, £1 |
---