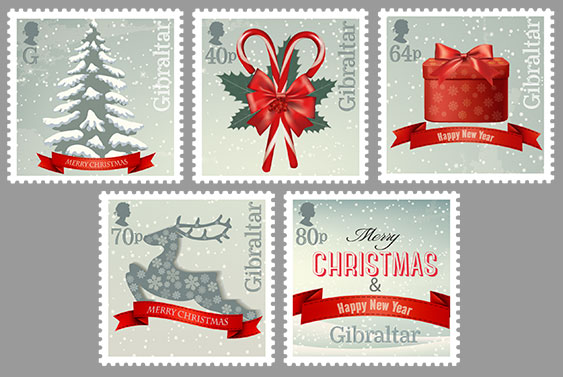 The latest Gibraltar Christmas stamps feature beautiful illustrations of the wintery scenes we all associate with Christmas.
The history of Christmas stamps is interesting. In 1935, British Forces troops stationed in Egypt were issued with a Christmas stamp for their mail home. For many years these were not included in the Stanley Gibbons catalogues, as they classified them as a "seal" rather than a postage stamp, but they have been properly included since the mid-1960s as they prepaid postage and so, despite the inscription "Letter stamp", are normal stamps, and should therefore be counted as the first stamp issued expressly to mark Christmas. Like the slightly earlier Silver Jubilee overprints on the "sphinx" stamp, the Christmas stamps were issued in booklet form in panes of 20.
In 1937, Austria issued two "Christmas greeting stamps" featuring a rose and zodiac signs. In 1939, Brazil issued four semi-postal stamps with designs featuring the three kings and a star, an angel and child, the Southern Cross and a child, and a mother and child. In 1941 Hungary also issued a semi-postal whose additional fees were to pay for "soldiers' Christmas". The first stamps to depict the Nativity were the Hungary issue of 1943. These were all one-time issues, more like commemorative stamps than regular issues.
The next Christmas stamps did not appear until 1951, when Cuba issued designs with poinsettias and bells, followed by Haiti (1954), Luxembourg and Spain (1955), then Australia, Korea, and Liechtenstein (1957). In cases such as Australia, the issuance marked the first of what became an annual tradition. Many more nations took up the practice during the 1960s, including the United States (1962), United Kingdom (1966) and Gibraltar (1967).
Technical Specs
| | |
| --- | --- |
| Design: | Stephen Perera |
| Illustration / Photography: | |
| Printer: | BDT Security Printers |
| Process: | Offset Lithography |
| Colours: | 4 colours |
| Stamp size: | 31.1 x 31.1mm |
| Issue date: | 2015-11-02 |
| Stamp Values: | G (22p), 40p, 64p, 70p, 80p |
---