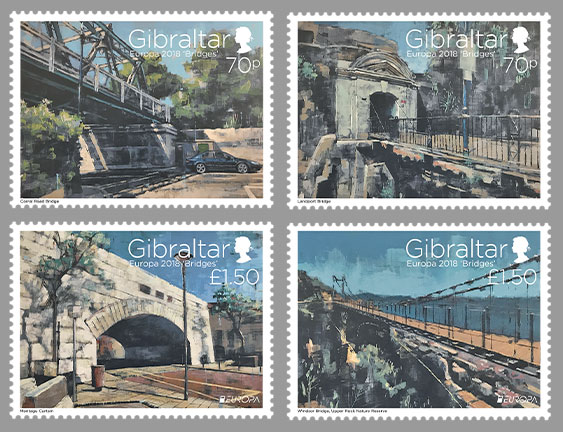 EUROPA stamps are special stamps issued by European postal administrations which bear
the offi cial EUROPA logo, a PostEurop registered trademark under the aegis of PostEurop in
which Europe is the central theme. EUROPA stamp issues are among the most collected and
most popular stamps in the world and have been issued for over 60 years. Every year a new
theme is assigned by PostEurop and all participating countries will issue stamps with their own
interpretation of the theme.
The theme for 2018 is Bridges. The illustrations featured on the stamps were commissioned to
Gibraltarian artist Mr Leslie Gaduzo and depict the following bridges in Gibraltar; Corral Road
Bridge, Landport Bridge, Montagu Curtain Bridge and the modern 71m Windsor Suspension
Bridge, located between two Batteries and constructed over a 50 metre gorge.
Bridges are structures built to span physical obstacles without closing the way underneath such
as a body of water, valley, or road, for the purpose of providing passage over the obstacle. There
are many different designs that each serve a particular purpose and apply to different situations.
Designs of bridges vary depending on the function of the bridge, the nature of the terrain where
the bridge is constructed and the material used to make it.
Technical Specs
| | |
| --- | --- |
| Design: | Stephen Perera |
| Illustration / Photography: | Leslie Gaduzo |
| Printer: | Bpost Security Printers |
| Process: | Offset Lithography |
| Colours: | 4 colours |
| Stamp size: | 40 x 30mm |
| Issue date: | 2018-02-06 |
| Stamp Values: | 70p, 70p, £1.50, £1.50 |
---