HMS Queen Elizabeth
Price Miniature Sheet:
£3.00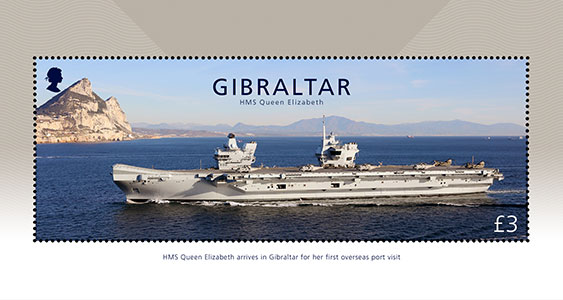 HMS Queen Elizabeth is the lead ship of the Queen Elizabeth class of aircraft carriers, the largest warships ever built for the Royal Navy of the United Kingdom and capable of carrying up to 60 aircraft. She is named in honour of the first Queen Elizabeth, a renowned World War I era super-dreadnought, which in turn was named after Queen Elizabeth I. The new Queen Elizabeth will carry her namesake's honours, as well as her Tudor rose-adorned crest and motto.
The ship began sea trials in June 2017 and was commissioned on 7 December 2017. Her first Commanding Officer is Commodore Jerry Kyd, who had previously commanded the carriers HMS Ark Royal and HMS Illustrious. As Captain of HMS Queen Elizabeth, Kyd will wear the Royal Navy rank of Captain while retaining the substantive rank of Commodore.
Her first overseas port visit was to Gibraltar on 9 February 2018.
Captain Jerry Kyd spoke of the visit: "It is a great privilege for me to be bringing our new aircraft carrier into Gibraltar for her first ever overseas port visit. Gibraltar is the perfect stop for HMS Queen Elizabeth as we conduct our flying trials in the waters off the Iberian Peninsula...our visit also underlines the incredibly rich history and special relationship the Royal Navy and Royal Marines share with Gibraltar. I am personally very lucky to have visited the Rock many times in my naval career, but well over a quarter of my sailors have not yet experienced what, for the Royal Navy, is something of an iconic run ashore."
On leaving Gibraltar HMS Queen Elizabeth went on to conduct helicopter trials with specially equipped Merlin and Chinook aircraft from the Aircraft Test and Evaluation Centre at MOD Boscombe Down.
Technical Specs
| | |
| --- | --- |
| Design: | Stephen Perera |
| Illustration / Photography: | Royal Navy - MOD |
| Printer: | Bpost Security Printers |
| Process: | Offset Lithography |
| Colours: | 4 colours |
| Stamp size: | 100 x 49mm |
| Issue date: | 2018-05-10 |
| Stamp Values: | £3 |
---