HM QE II 95th Birthday
Price First Day Cover:
£8.90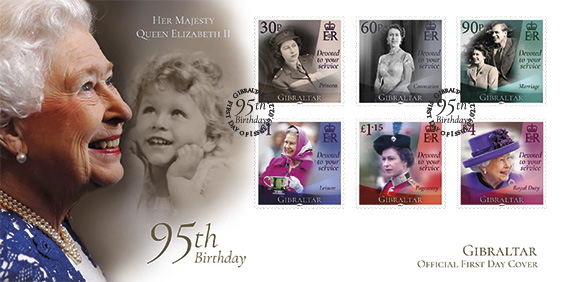 Elizabeth Alexandra Mary Windsor, was born at 02:40 (GMT) on 21st April 1926, during the reign of her paternal grandfather, King George V. Her father, the Duke of York (later King Geroge VI), was the second son of the King. Her mother, the Duchess of York (later Queen Elizabeth, The Queen Mother), was the youngest daughter of Scottish aristocraft the Earl of Strathmore and Kinghorne. She was delivered by caesarean section at her maternal grandfathers London House: 17 Bruton Street, Mayfair. She was baptised by the Angelican Archbishop of York, Cosmo Gordon Lang, in the private chapel of Buckingham Palace on29th May, and named Elizabeth after her mother. She was called Lilibet by her close family, based on what she called herself first, she was cherished by her Grandfather George V, and during his serious illness in 1929 her regular visits were credited in the popular press and by later biographers with raising his spirits and aiding his recovery.
Technical Specs
| | |
| --- | --- |
| Design: | Creative Creation (worldwide) Ltd |
| Illustration / Photography: | Getty Images |
| Printer: | Cartor Security Printers |
| Process: | Offset Lithography |
| Colours: | 4 colours |
| Stamp size: | 36 x 36 mm |
| Issue date: | 2021-02-09 |
| Stamp Values: | 30p, 60p, 90p, £1, £1.15, £4 |
---