Post & Go - Year of the Ox
Price First Day Cover:
£8.90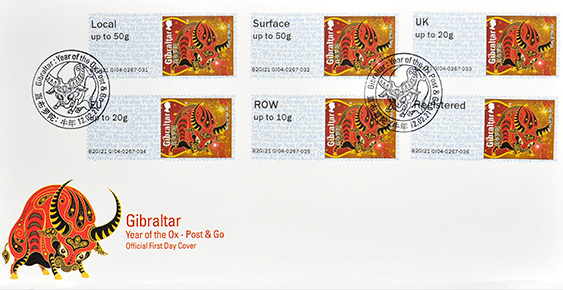 Post & Go machines issue a new generation of self-adhesive postage stamps that are rapdily capturing the interest of stamp collectors. The stamps were first introduced by the Royal Mail back in 2008. Gibraltar is proud to issue a new set of Post & Go for the Chinese New Year- Year of the Ox.
2021 is a year of the Ox, starting from 12th February, 2021 (Chinese Lunar New Year Day) and lasting until January 30th, 2022. It will be a Metal Ox Year. People born in the year of the Ox are strong, reliable, fair and conscientious, inspiring confidence in others. They are also calm, patient, methodical and can be trusted. Although they say little they can be very opinionated. They believe strongly in themselves, but are also stubborn and hate to fail or be challenged. Although they do not lose their temper easily their anger can become explosive and impulsive. They are serious quiet and not naturally sociable, which can make them dull. Ox people have a great deal of common sense.
Technical Specs
| | |
| --- | --- |
| Design: | Stephen Perera |
| Illustration / Photography: | © Bajena and Siewhoong at istockphoto.com |
| Printer: | Cartor Security Printers |
| Process: | Offset Lithography |
| Colours: | 4 colours |
| Stamp size: | 55 x 25mm |
| Issue date: | 2021-02-12 |
| Stamp Values: | 30p, 60p, 90p, £1, £1.15, £4 |
---