Gibraltar Definitive 2021 - Additional v
Price Presentation Pack:
£8.85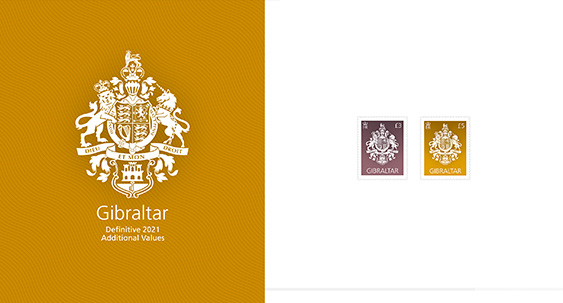 A definitive stamp is a postage stamp that is part of the regular issue of a country's stamps, available for sale by the post office for an extended period of time and designed to serve the everyday postal needs of the country. The term is used in contrast to a "provisional stamp", one that is issued for a temporary period until regular stamps are available, or a "commemorative stamp", a stamp "issued to honor a person or mark a special event" available only for a limited time. Commonly, a definitive issue or series includes stamps in a range of denominations sufficient to cover current postal rates. An "issue" generally means a set that is put on sale all at the same time, while a "series" is spread out over several years, but the terms are not precise. Additional stamps in a series may be produced as needed by changes in postal rates; nevertheless some values may be permanently available, regardless of prevailing rates. This issue, like others before it, uses a a colour coding to identify which country you need to send your post to. The set features the official Her Majesty's Government of Gibraltar crest as the central design feature.
Technical Specs
| | |
| --- | --- |
| Design: | Stephen Perera |
| Illustration / Photography: | Stephen Perera |
| Printer: | Cartor Security Printers |
| Process: | Offset Lithography |
| Colours: | 4 colours |
| Stamp size: | 20 x 25 mm |
| Issue date: | 2021-09-08 |
| Stamp Values: | £3, £5 |
---