60th Anniversary of VE Day
Price Pack Set: :
Ask for Availability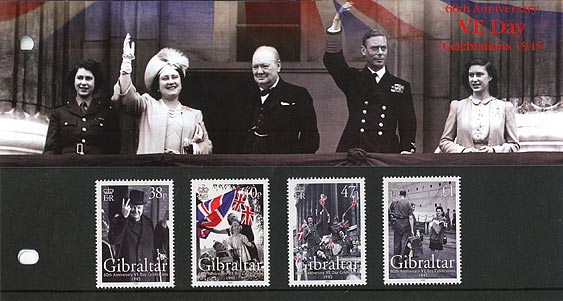 Victory in Europe Day (V-E Day) was May 8, 1945, the date when the AtIies during the Second World War formally celebrated the defeat of Nazi Germany and the end of Adolf Hitler's Reich.

On that date, massive celebrations took place, notably in London, where over a million people celebrated in a carnival atmosphere the end of the European war, though rationing of food and clothing was to continue for a number of years. In London crowds massed in particular in Trafalgar Square and up the Mall to Buckingbam Palace, where King George VI and Queen Elizabeth, accompanied by tbe Prime Minister, Winston Churchill, appeared on the balcony of the Palace to cheering crowds. Princess Elizabeth (the future Queen Elizabeth II) and her sister, Princess Margaret were allowed to wander anonymously among the crowds and take part in the celebrations in London.

The Allies had agreed to mark May 9, 1945 as VE day, but western journalists broke the news of Germany's surrender prematurely, precipitating the earlier celebration.
Technical Specs
| | |
| --- | --- |
| Design: | Anselmo Torres |
| Illustration / Photography: | Imperial War Museum archives |
| Printer: | BDT International, Ireland |
| Process: | Offset Lithography |
| Colours: | 4 cols. |
| Stamp size: | 30 x 40mm |
| Issue date: | 2005-05-08 |
| Stamp Values: | 38p, 40p, 47p, £1 |
---