House of Windsor Centenary
Price FDC Miniature Sheet:
£4.99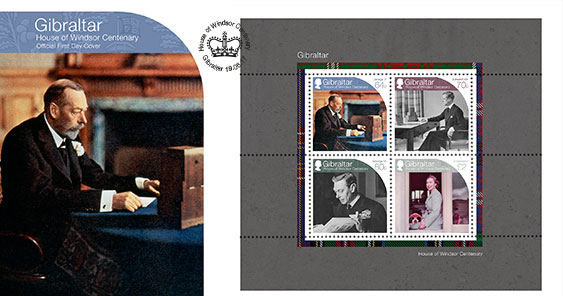 The House of Windsor is the royal house of the United Kingdom and the other Commonwealth realms. The dynasty is of German paternal descent and was originally a branch of the House of Saxe-Coburg and Gotha, itself derived from the House of Wettin, and it succeeded the House of Hanover as monarchs in the British Empire following the death of Queen Victoria, wife of Albert, Prince Consort. The houses of Saxe-Coburg and Gotha and Windsor have provided five British monarchs to date, including four kings and the present queen, Elizabeth II.
The name was changed from Saxe-Coburg and Gotha to the English Windsor in 1917 because of anti-German sentiment in the British Empire during World War I. During the reign of the Windsors, major changes took place in British society. The British Empire participated in the First and Second World Wars, ending up on the winning side both times, but subsequently lost its status as a superpower during decolonisation. Much of Ireland broke with the United Kingdom and the remnants of the Empire became the Commonwealth of Nations.
The current head of the house is monarch of sixteen sovereign states. These are the United Kingdom (where they are based), Canada, Australia, New Zealand, Jamaica, Barbados, the Bahamas, Grenada, Papua New Guinea, Solomon Islands, Tuvalu, Saint Lucia, Saint Vincent and the Grenadines, Belize, Antigua and Barbuda, and Saint Kitts and Nevis. As well as these separate monarchies, there are also three Crown dependencies, fourteen British Overseas Territories and two associated states of New Zealand.
Technical Specs
| | |
| --- | --- |
| Design: | Stephen Perera |
| Illustration / Photography: | Getty Images |
| Printer: | Lowe Martin Security Printers |
| Process: | Offset Lithography |
| Colours: | 4 colours |
| Stamp size: | 103 x 103mm |
| Issue date: | 2017-06-19 |
| Stamp Values: | 64p, 70p, 80p, £2 |
---