Calpe House
Price Miniature Sheet:
£3.00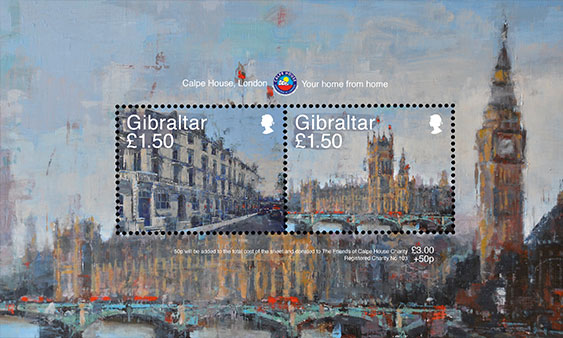 In 1991 a group of friends got together in Gibraltar to realise their dream of having a House in central London where sponsored patients, sent to London for treatment, could be accommodated for free instead of staying in Hotels. With the generosity of the people of Gibraltar and the help of the Gibraltar Government at the time, the dream became a reality and a property was purchased in Princes Square, Bayswater, London W2. The House could accommodate 11 patients and their carers. Since the House opened its doors, over 25 years ago, a total of nearly 6000 patients have made use of its facilities. Calpe House became a Home from Home and a Household name. It has become probably the most popular local Charity on the Rock.
Over the last few years the original House became too small to meet the demands so a new property was purchased in Norfolk Square, Paddington, London W2 and on the 1st August 2018 its 37 on suite rooms became available. Once again this was possible through the generosity of the general public of Gibraltar, many Corporate sponsors and the Gibraltar Government who stand 100% behind this Charity. Calpe House is always looking for people to become Friends of the Charity.
Technical Specs
| | |
| --- | --- |
| Design: | Stephen Perera |
| Illustration / Photography: | Leslie Gaduzo |
| Printer: | Bpost Security Printers |
| Process: | Offset Lithography |
| Colours: | 4 colours |
| Stamp size: | 40 x 30mm |
| Issue date: | 2018-11-02 |
| Stamp Values: | £1.50 & £1.50 |
---