Gustavo Bacarisas 150th Ann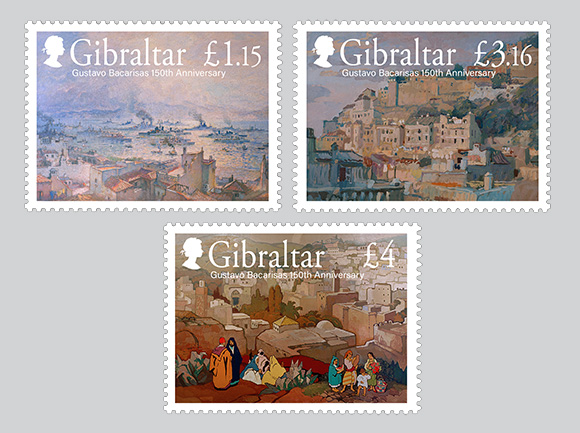 Gustave Charles Bacarisas was born in Gibraltar on 23 September 1872 and began to show his artistic promise from a young age. He was granted a scholarship at the age of 19 in 1892 by a group of Gibraltarian businessmen to study art in Rome.
1905 saw Bacarisas travel through Italy and then to Paris. The Parisian phase had a decisive influence on his palette. Bacarisas also worked in sculpture and ceramics, where he devised his special shade of blue. This shade, referred to as 'Bacarisas blue' is regularly seen in his painting, becoming his trademark.
In 1906 he moved to London to continue his studies and exhibited his painting "El Corso" at the Royal Academy. From 1906-1909, Bacarisas travelled back and forth between Gibraltar, Morocco, Paris and Rome. He embarked for Argentina, in 1910 settling in Buenos Aires for a number of years. An exhibition that he held in 1911 was so successful that in 1912 he was appointed professor in the Academia de Bellas Artes. He also exhibited in the US.
In 1915 he returned to Gibraltar and then settled in Seville. In 1919 he was made "Hijo Adoptivo de Sevilla" (adopted "son" of Seville) for his outstanding achievements in the arts. That same year he was commissioned to design the "panoletas" of the Royal Pavilion and also the plans for the new pavilion for the Feria de Abril of Seville. His overall design continues to be used up to the present day.
In 1922 the Swedish Government commissioned him to design the sets and costumes for Bizet's "Carmen". During one of these visits Bacarisas met Elsa Jernas, a well known painter herself, who was to become his wife. Bacarisas also designed the sets and costumes for the ballet "Coppelia" that was staged at London's Trocadero, as well as the sets for productions staged in Paris and Madrid of Manuel de Falla's 'El Amor Brujo'.
In 1933 he moved to Madrid. At the outbreak of the Spanish Civil War in 1936 he and Elsa returned to Gibraltar. Apparently hundreds of his art works were unfortunately lost at this time.
At the outset of the Second World War in 1940, he was evacuated with Elsa to Madeira. He painted regularly during the war years. Once the war had ended in 1945, he was repatriated to Gibraltar, and later returned to Seville, where he was commissioned to design the centenary poster for the Seville April Fair.
On 15th June 1961 Bacarisas was named the first Honorary Freeman of Gibraltar. The conferment ceremony took place on 3th October 1962. The scroll of conferment was executed by his fellow artist Jacobo Azagury.
Gustavo Bacarisas died in Seville at the age of 98 on 7th January 1971. That year, following the express wishes of her late husband, Elsa presented a large oil painting "The Mediterranean and Atlantic Fleets in Gibraltar Harbour" to the people of Gibraltar, which is on display in the Mayor's Parlour at the City Hall.
In 1973 the Gibraltar Government named one of the blocks in the new Glacis Estate after the artist, and his portrait was included in a 1980 European issue of Gibraltar postage stamps featuring local personalities. On 23rd of September 2022 it will be 150 years since his birth.
Technical Specs
| | |
| --- | --- |
| Design: | Stephen Perera |
| Illustration / Photography: | Gustavo Bacarisas |
| Printer: | Bpost |
| Process: | Offset Lithography |
| Colours: | 4 Colours |
| Stamp size: | 40 x 30mm |
| Issue date: | 2022-10-20 |
| Stamp Values: | £1.15, £3.16, £4 & £4 M/S |
---