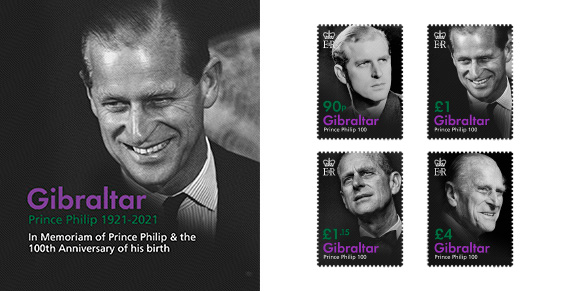 Prince Philip 1921-2021
In Memoriam of Prince Philip & the 100th Anniversary of his birth
HRH Prince Philip passed away peacefully on 9th April 2021 at Windsor Castle and was the longest serving royal consort in British history. Gibraltar pays tribute to His Royal Highness with the release of a set of stamps in his memory and the 100th Anniversary of his birth.
Philip, Duke of Edinburgh, Earl of Merioneth and Baron Greenwich, also called Philip Mountbatten, original name Philip, Prince of Greece and Denmark, born June 10, 1921, Corfu, Greece, husband of Queen Elizabeth II of the United Kingdom.
Philip's father was Prince Andrew of Greece and Denmark (1882- 1944), a younger son of King George I of the Hellenes (originally Prince William of Denmark). His mother was Princess Alice (1885- 1969), who was the eldest daughter of Louis Alexander Mountbatten, 1st marquess of Milford Haven, and Princess Victoria of Hesse and the Rhine, granddaughter of Queen Victoria. Reared chiefly in Great Britain, Philip was educated at Gordonstoun School, near Elgin, Moray, Scotland, and at the Royal Naval College, Dartmouth, Devon, England. From January 1940 to the end of World War II, he served with the Royal Navy in combat in the Mediterranean and the Pacific.
On February 28, 1947, Philip became a British subject, renouncing his right to the Greek and Danish thrones and taking his mother's surname, Mountbatten. (His father's family name had been Schleswig- Holstein-Sonderburg-Glücksburg.) His marriage to his distant cousin Princess Elizabeth took place in Westminster Abbey on November 20, 1947. On the eve of his wedding, he was designated a royal highness and was created a Knight of the Garter, Baron Greenwich, earl of Merioneth, and duke of Edinburgh. The couple's first child, Charles Philip.
Arthur George, was born in 1948. He was joined by Anne Elizabeth Alice Louise (born 1950), Andrew Albert Christian Edward (born 1960), and Edward Anthony Richard Louis (born 1964).
Philip continued on active service with the Royal Navy, commanding the frigate Magpie, until Elizabeth's accession on February 6, 1952, from which time he shared her official and public life. He attended an average of 350 official engagements a year on behalf of the royal household. In 1957 she conferred on him the dignity of prince of the United Kingdom, and in 1960 his surname was legally combined with the name of her family - as Mountbatten-Windsor - as a surname for lesser branches of the royal family. His outspoken right-wing views, the public expression of which he sometimes found hard to resist, occasionally embarrassed a monarchy trying to put aside its traditional upper-crust image.
While much of his time was spent fulfilling the duties of his station, Philip engaged in a variety of philanthropic endeavours. He served as president of the World Wildlife Fund (WWF) from 1981 to 1996, and his International Award program allowed more than six million young adults to engage in community service, leadership development, and physical fitness activities. In 2011, to mark his 90th birthday, Elizabeth conferred on him the title and office of lord high admiral, the titular head of the Royal Navy. In May 2017 it was announced that Philip - who was one of the busiest royals, with more than 22,000 solo appearances over the years - would stop carrying out public engagements in August. His last solo event took place on August 2, 2017.
Technical Specs
| | |
| --- | --- |
| Design: | Stephen Perera |
| Illustration / Photography: | Getty Images |
| Printer: | Bpost Security Printers |
| Process: | Offset Lithography |
| Colours: | 4 Colours |
| Stamp size: | 30 x 40mm |
| Issue date: | 2021-06-10 |
| Stamp Values: | 90p, £1, £1.15, £4 & MS £4 |
---